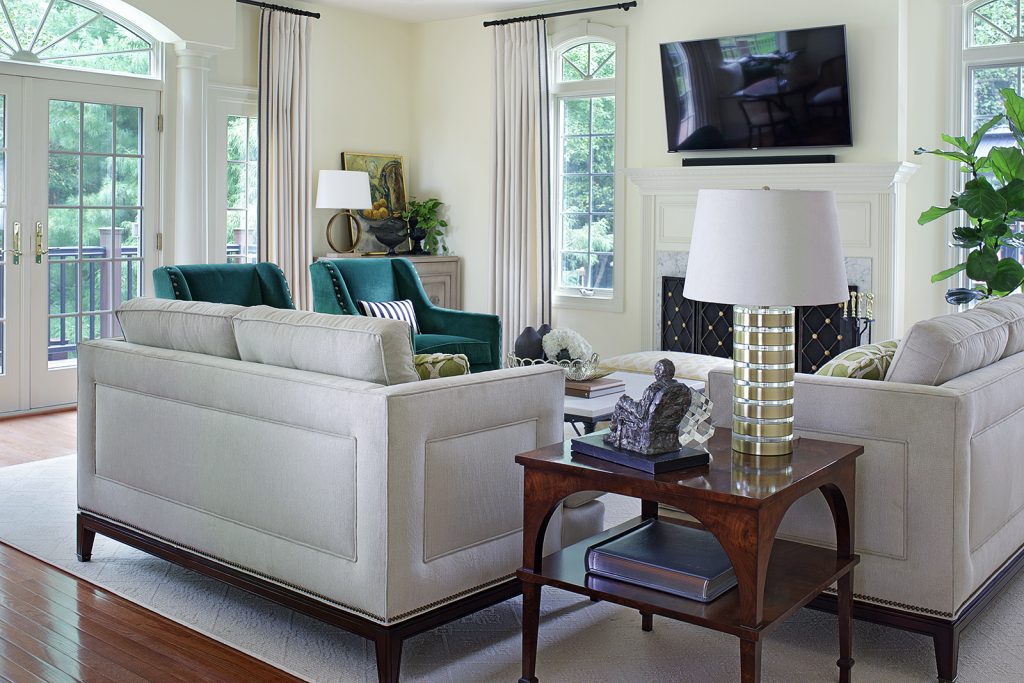 Students of my online interior design courses will tell you, if you are ignoring your window treatments, your home isn't living up to its full design potential. 
Not sure where to start? Well, you're in luck! This month, we're diving into three of our all-time favorite window treatment makeovers, dishing out a few of our favorite tips and tricks along the way. 
Makeover #1 Do Away with Outdated Treatments
Overly ornate treatments like swags, jabots, and over-the-top trims, beads, and fringes are out, out, OUT. Instead, top-designers are opting for simplicity to add texture, color, or pattern to a space without going overboard. 
Not convinced? Take a look at our example here. Our clients had inherited window treatments that distracted from their beautiful view and didn't bode well with the soothing family room they were looking for. 
We updated the look with streamlined, stationary panels in a sheer beige fabric, excellently proportioned against the large stretch of windows. The result complements the other elements in the room rather than distracting from them.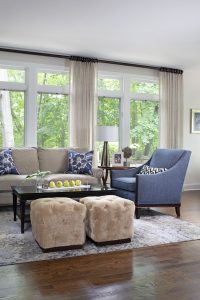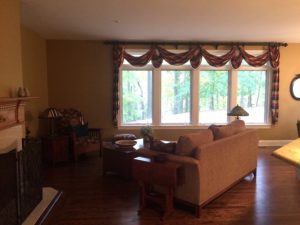 Makeover #2 Use Window Treatments to add Warmth and Texture
If you're working with a double height, oversized, or otherwise echo-prone space, window treatments have the power to visually shrink any room by adding some much-needed texture and warmth. 
A favorite client wanted to turn a unique space into her own, "woman-cave," perfect for entertaining guests or relaxing alone. While interesting architecturally, the space felt cold due to its large expanse of windows and dark stone floor. 
By punctuating the room with stationary drapery panels, we softened the space and created a warm and inviting atmosphere.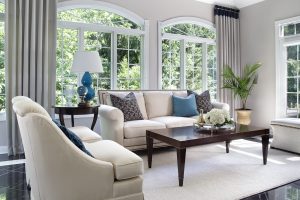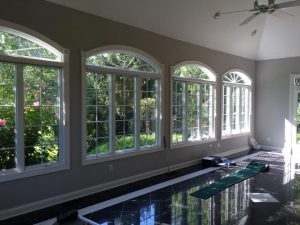 Makeover #3 Hang Your Treatments as High as Possible
Hanging drapery panels as close to the ceiling as possible draws the eye upward, making a space feel larger overall. 
While there was nothing wrong with our client's original treatments, they weren't doing the architecture of their beautiful family room any favors. By hanging their new treatments just under the start of their tray ceiling, we accentuated the height of the space as well as the interesting architecture of the windows. 
Whether you want to update your space, frame a view, make a room feel more inviting, or add color, pattern, or texture to a space the answer will always be window treatments! Use them properly and you will take your DIY interior design game to the next level.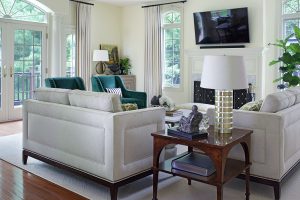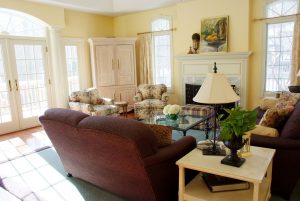 Ready to dive deeper into window treatments? Check out my free online workshop to Conquer Window Treatment Confusion once and for all.