I love empowering interior design lovers across the globe to transform their homes in ways they never thought they would or believed they could.
Real people, just like you and me, who all had the same "before" design stories:
"I'm spinning my wheels."
"I'm not getting the design results I LOVE."
"My Pinterest boards look one way but my home looks another."
"I have a room (or rooms) that drive me crazy."
No matter what they tried, their design results just kept falling short … until they met me!
You see, I have this strange, well … personal trait. I have a very strong and equal orientation between my right brain AND left brain. Designers are almost always right brain people. Not me. I'm both.
Thanks to my little "quirk," I have a knack for distilling a zillion creative and arbitrary concepts down into TOTALLY logical, easy-to-follow steps, logical thinking, and actionable systems. My "quirk" is the reason why and how I teach interior design in a way absolutely nobody else does. People love how I teach AND it's also why people always get fabulous results! Plus, with their beautified home … people are happier!
Afterall, whenever you raise the aesthetic in a home – increasing the beauty factor, which in turn increases the grace factor – the people living there JUST FEEL BETTER EVERY DAY.
Three Beautiful Room Transformation Case Studies
So, like a proud momma bear, I've got to brag a little about three amazingly-beautiful room transformations. These are just some of the design victories amidst the stream of beautiful results people using my Decorating Genius System share with me.
I've chosen these three because:
One involves a re-do of a room that some people said was OK as-is, yet it drove the fab woman living in it crazy.
One involves a total re-do of a dated space. (I think a lot of us are in this boat!)
One project is a really ambitious renovation.
From "Just OK" to Magazine Level Beautiful
Peggy had a living room other people loved, but SHE didn't. It felt more like something a salesperson sold her rather than the space she REALLY wanted.
No matter what she tried, the ideas in her head fell flat. It was all the more frustrating when Peggy asked friends for help because they said the room was fine, and that nothing needed changing!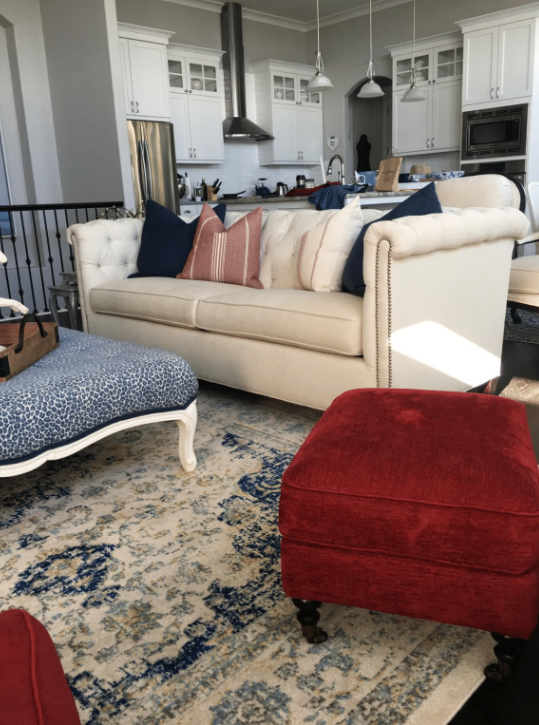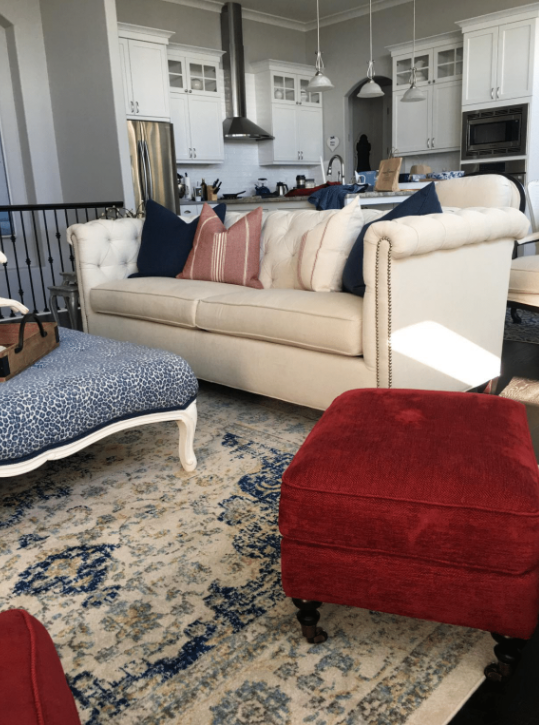 So, Peggy stopped asking, but her wheels kept spinning.
"Why can't I fix this?"
"Should I paint the chests even though everyone says not to?"
"Should I change my furniture?"
Peggy loved her Pinterest room collection but not her own home. Can anyone else relate to this one?!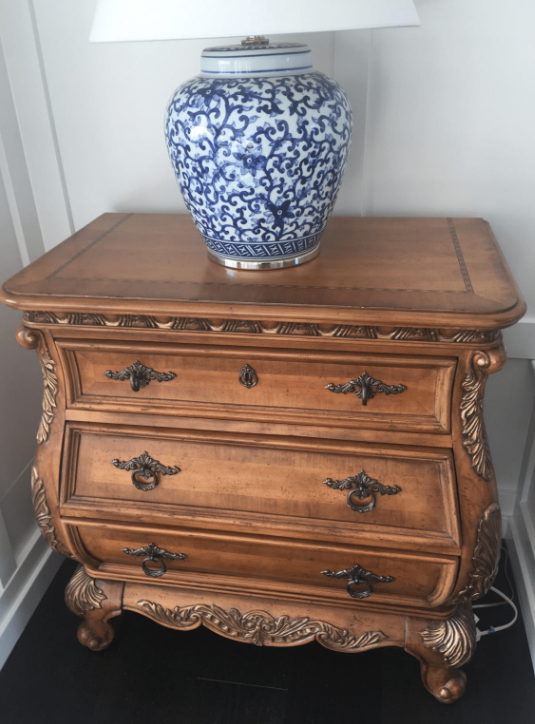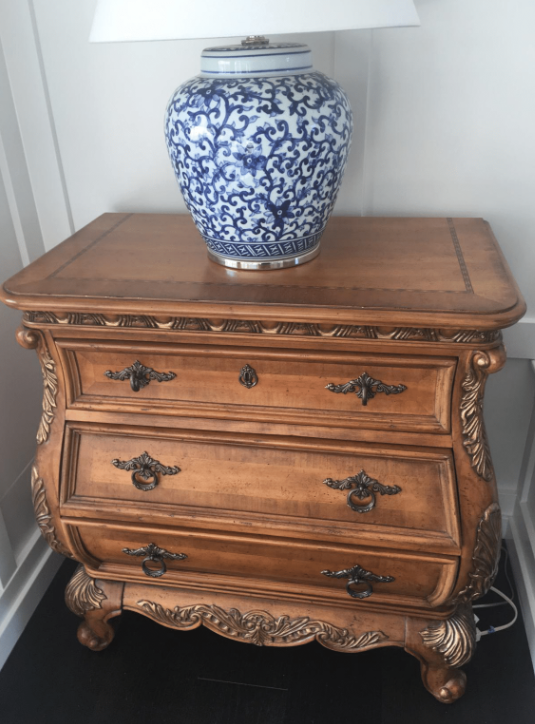 The Discovery That Created Miraculous Changes
Peggy discovered something called her Design Fingerprint, the game-changing strategy that I teach inside my online course, the Decorating Genius System. Your Design Fingerprint is actually a bigger driver than your design style. It's what lies beneath ANY DESIGN STYLE.
Basically, your Design Fingerprint is the sum total of all your design cravings. It's how you relate to ALL the subtle but REAL elements that live beneath any design style: color, form, pattern, shape, light, space, walls and detailing … just to name a few!
Using my system, Peggy discovered WHY her room was off and how to fix it. She discovered how:
Her color plan was working against her Design Fingerprint, which will totally block your results.
The furniture arrangement was sabotaging her room. Bad arrangements always do this!
Ignoring color strategy and design strategy was working against the results she wanted.
Are you ready for the after pictures?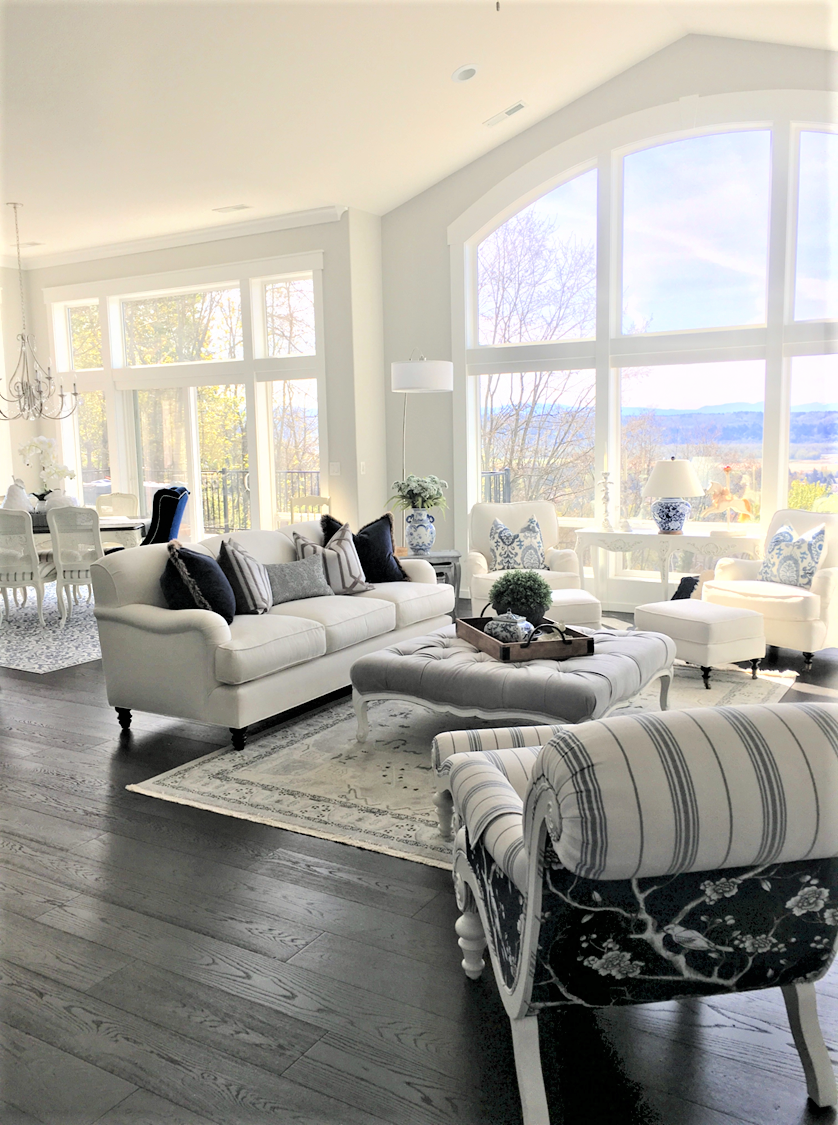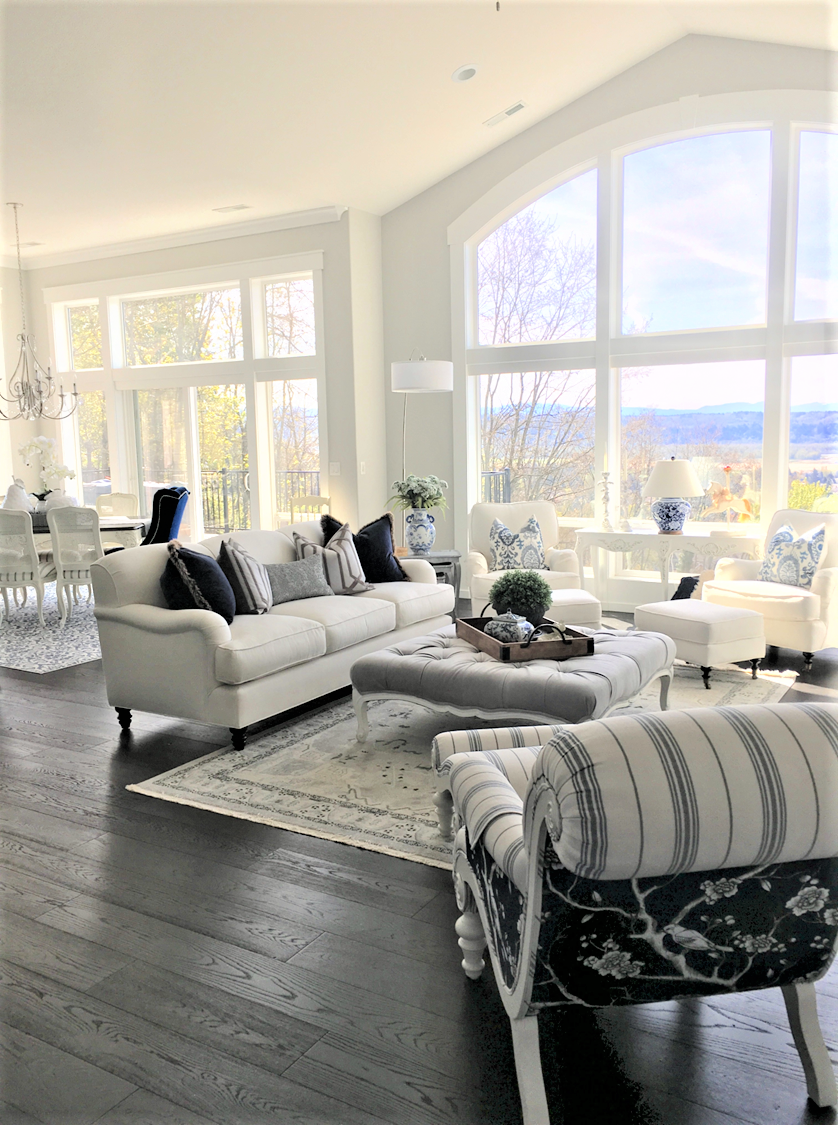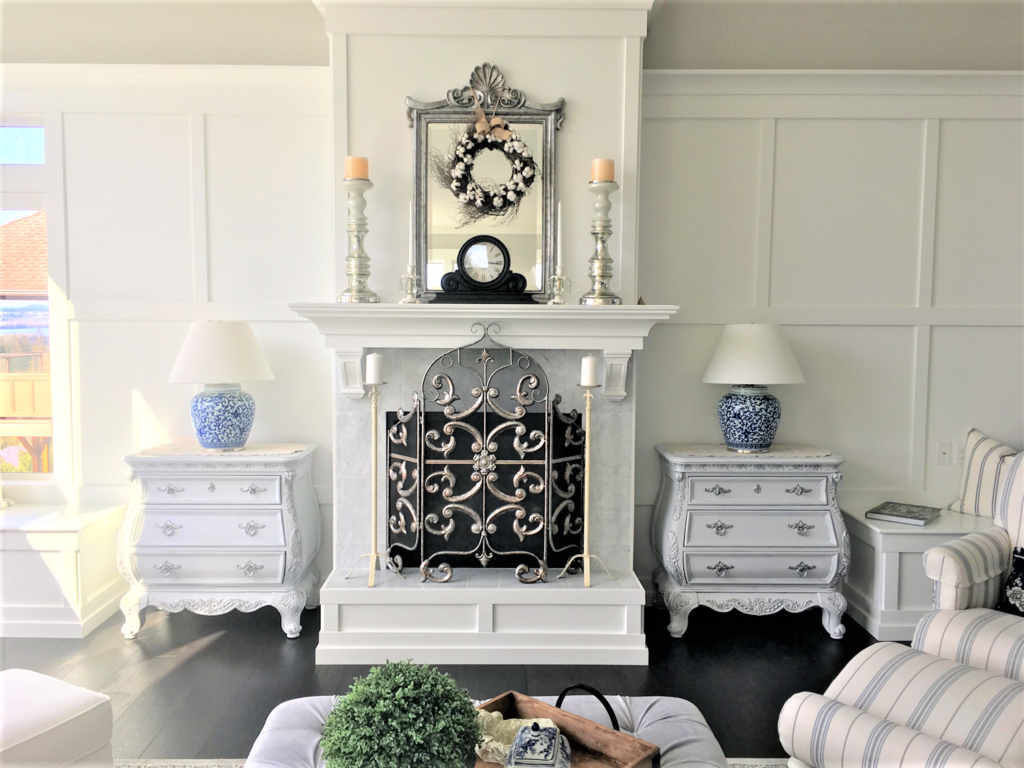 Wow, and more wow! Pretty amazing, right? Like … magazine-level beautiful?
With her Design Fingerprint, Peggy discovered she doesn't like or feel good around high contrast, so she fixed her color and fabric plan. She then used my secret sauce strategies for design, color, and furniture layout to make her space look bigger and feel more peaceful.
Here's what Peggy had to say about her beautiful transformation:
What were you doing BEFORE you found DGS to try to solve your design challenge?
Peggy: "I tried everything! YouTube, all the websites, and a lot of pictures. Mostly, I was relying on friend's and family member's opinions … until I learned about my Design Fingerprint from the Decorating Genius System. Now, my new decor is totally ME!"
For the record, do you have any design training?
Peggy: "No."
So, what changed for you to get these results? (And let's face it … Peggy's results are PRETTY FABULOUS!)
Peggy: "It's amazing how a room can seem well designed yet still not feel right! I am so thankful to have found Decorating Genius System. I learned how to make my home design my own. I followed the design strategies and my personal Design Fingerprint to create a result that was everything I loved and wanted. I got the soft, relaxed, and beautiful feeling I was after and needed."
Next, let's dive into a room that was pretty dated.
From Dated to the Room Everyone Wants to be in Now!
Nikki struggled with having to update a dated interior. Where do you start, what do you do, and how do you do it? When a project feels too big, you find great ways to avoid it all together.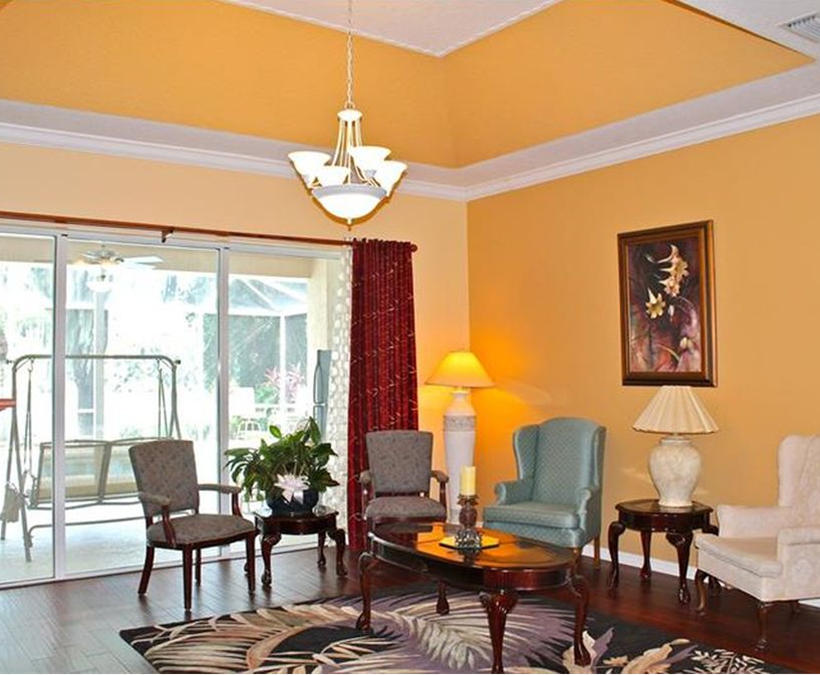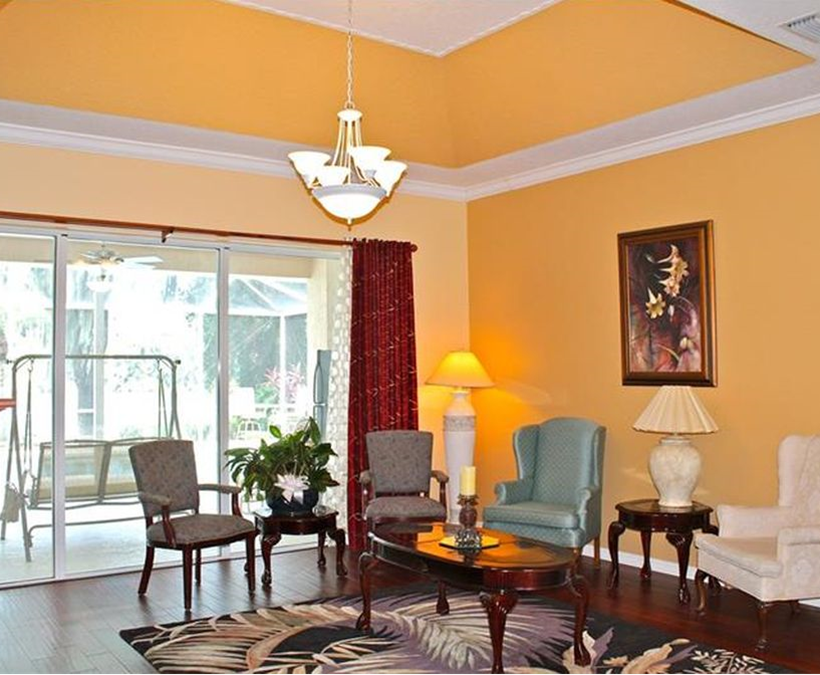 Using the simple steps I lay out in Decorating Genius System, here's the little slice of heaven Nikki created for herself.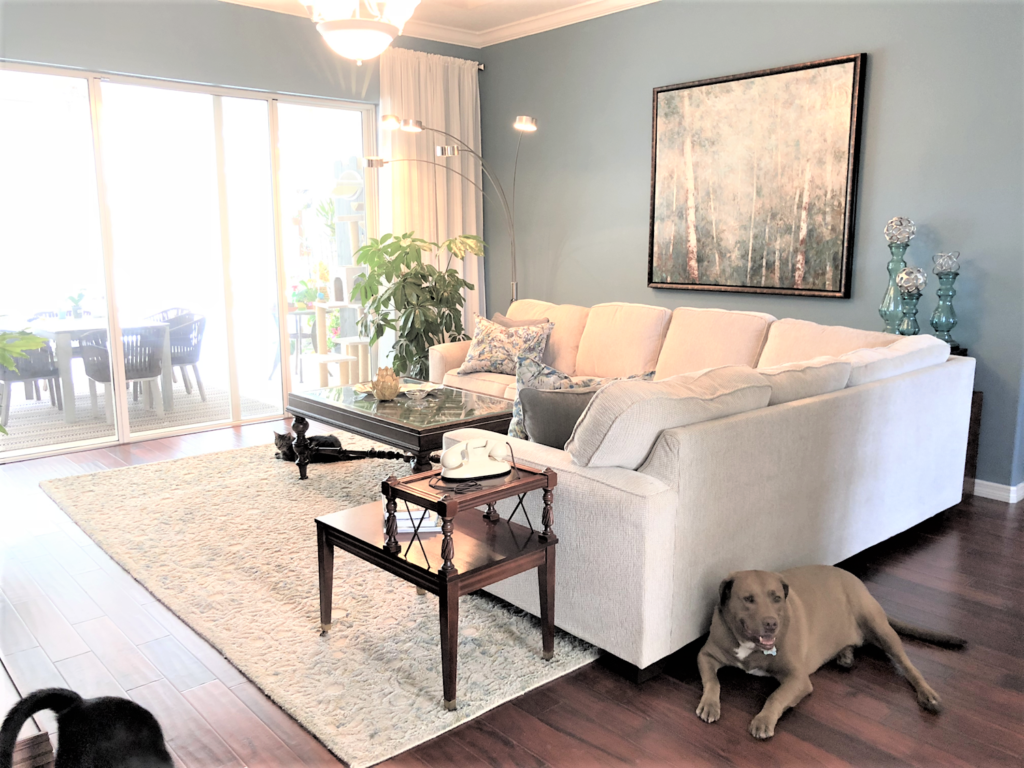 BIG difference, right?!
I love what Nikki shared about her transformation.
You said you don't have any design training. Can you tell me what was your method before you found Decorating Genius System to try to get results you loved in your home?
Nikki: "Basically, I was doing trial and error decorating before I found Decorating Genius System. I'd tour furniture stores to see how they showcased things, but I rarely liked what I saw. And, I had even painted some rooms four times and still didn't hit the perfect color!"
Ouch! Okay, so what changed for you with Decorating Genius System?
Nikki: "The Decorating Genius System showed me HOW I can get great decorating results. I also like that it showed me how I can use my thrift store finds in my home."
And, as you can see, Nikki got her paint color right the first time! So finally, let's look at a fabulous result in an ambitious project … a gorgeous kitchen renovation.
A Major Renovation to a Dream Kitchen!
Like a lot of people, Kym craved her dream kitchen. But, where do you start? What do you actually DO and HOW do you do it? Let's take a look at where Kym started.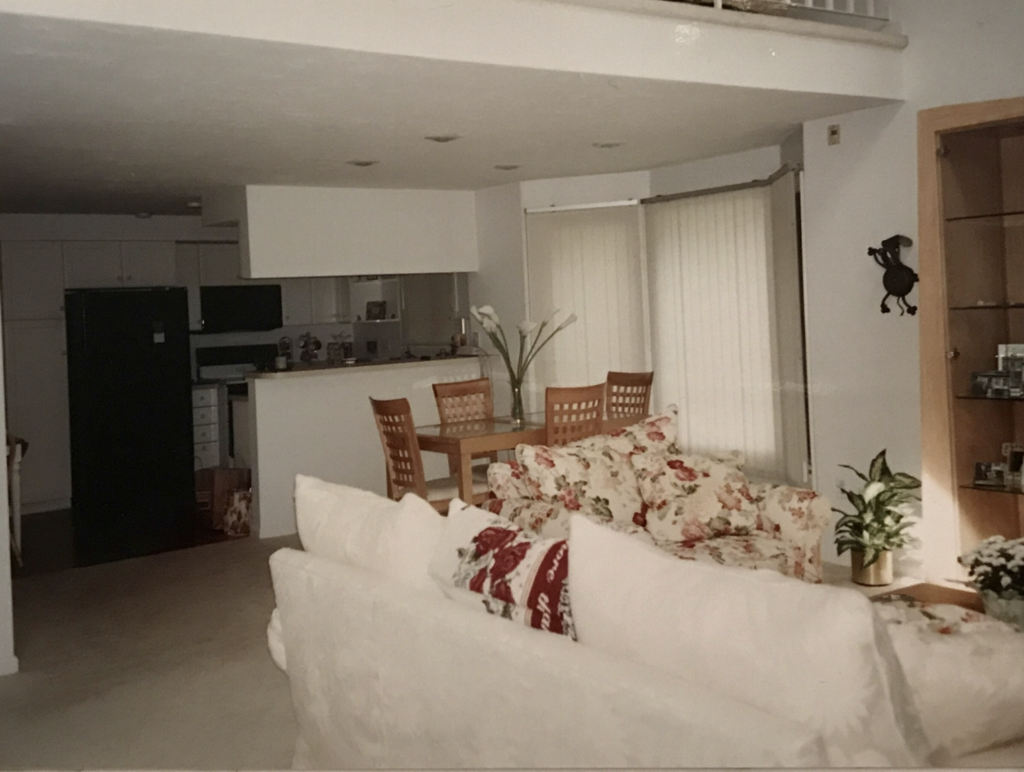 The kitchen was small, dated, and dark. Next, take a look at what Kym did using the strategies and system I teach inside Decorating Genius System, including the ever-important Design Fingerprint, so you get a space you LOVE for years to come.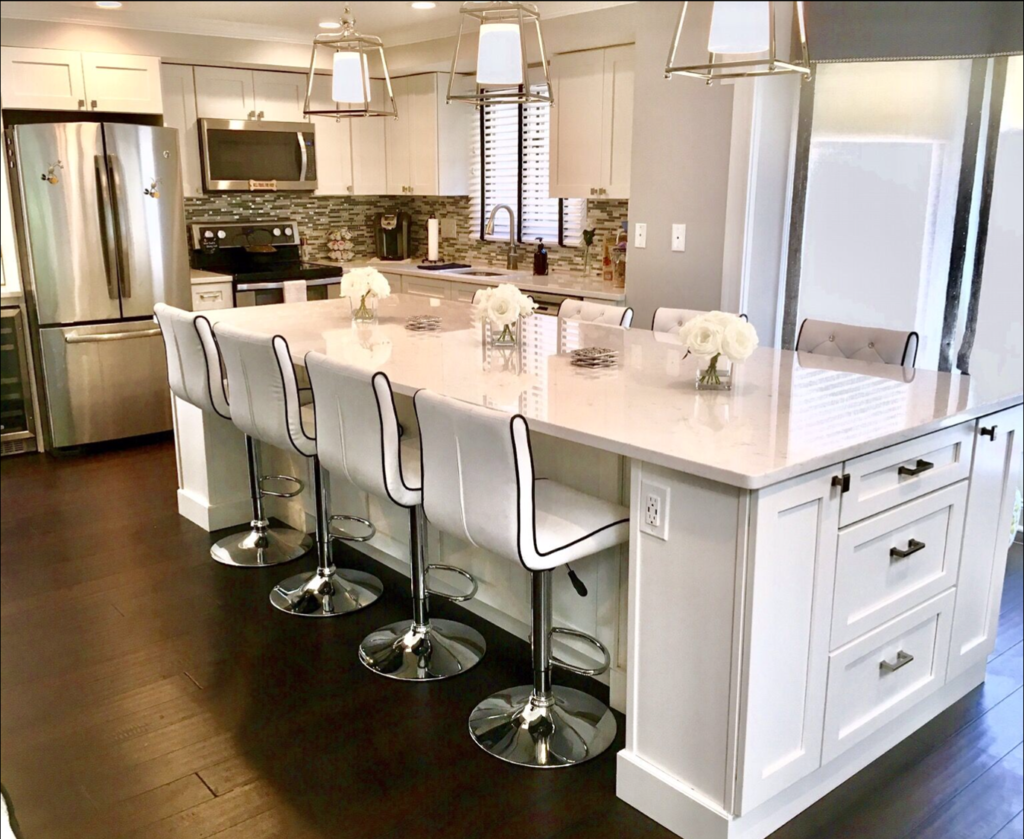 Pretty amazing, right? Great material selection and layout! LOVE the chairs. LOVE the lighting. Not a thing to change!
Here's what Kym shared about her project.
Do you have any professional design training?
Kym: "No."
What did you do to decorate your home before you found us?
Kym: "Prior to DGS, I purchased both (XXX's) system and (XXX's) systems."
(Editor's note: Out of respect for those content creators, we are concealing their names.)
"While both offer an array of information on style, color, and design, I personally didn't find either of them to be nearly as practical or as tailored as the Decorating Genius System, especially for someone without a design background like myself."
How so?
Kym: "With Decorating Genius System, the information is very straightforward. It shows you what to do and why. It even shows you how to work with what you have. The program has a rhythm to it which just makes sense. The step-by-step process allows you to build upon what you've learned and move forward. Then you add in the Design Fingerprint and private Facebook group … it's a win/win situation!"
In Summary
Here's what I know for sure:
The RIGHT design strategy is your lifeline in design.
There IS a strategic order to the steps you follow on ANY project on any budget.
WHAT to do is as important as HOW to do it, which is as important as WHEN to do it, which is as important as WHY you're doing it.
DISCOVERING and UNLEASHING your Design Fingerprint is a game-changer.
Using everything I map out in Decorating Genius System … 7 Simple Steps to Great Rooms is a fail-proof system.
I've shared just three of the amazing transformations that have happened for my students. I could show you more. Simpler projects. Harder projects. Lower budgets. Higher budgets. Here's what matters most:
To create the truly beautiful home you want, you must:
Stop listening to ideas instead of strategies.
Tune out well-meaning lifestyle bloggers' ideas from the trial and error decorating they did in THEIR homes which should somehow be relevant to you. It's just another idea to add to your idea pile.
Get off the DIY decorating merry-go-round.
The right design strategy unleashes the greatness you're SO capable of. When you choose to get empowered with a new way to do things, amazing things start to happen in your home. When your home becomes more beautiful, more peaceful, more gracious – so does your life and the way it feels.
I love seeing students in my courses, wise women who want more beautiful homes, suddenly lift their sails and make amazing transformations. I'm talking AMAZING transformations on many different budgets.
If you want one of those AMAZING transformations click here to secure your spot for our FREE workshop.