Give me a great custom cabinet maker any day. Expect higher costs than you would encounter with a semi custom group, sure.  But you will never hear the words, "This doesn't come in that size or that color." Rather, the world is your oyster.
To get the most out of working with a top quality cabinet maker I recommend the following wise design Golden Rules.
1) Patience is a virtue.
A custom cabinet maker will never  be as fast as a semi custom or pre-fab group. That's because nothing is pre-built…not even the cabinet boxes themselves. True artisanal work is what is coming to you…nothing is mass or factory produced.
2) Ask and you shall receive.
Have a favorite piece of wood furniture? A trinket box that hails from your great aunt's living room? How about a Ben Moore color you like? Just show it to your cabinet maker. He can work to any color and, regarding wood finishes, he can match anything. For this his and her library, we wanted to approximate the color of a fruitwood chest in the adjacent foyer. My cabinet maker named this final color selection Hoffman Gold! It was chosen from the 18 samples I rejected before even showing a single one to the client…Hoffman Gold. I should take that on the road! Word to the wise:  do nothing with a custom cabinet maker without first signing off on an approval sample.
3) Gather images.
I can draw. But photo images will suffice in lieu of drawings and elevations if need be for door shapes and cabinet detailing flourishes. Do not ever expect that a craftsperson will understand the images you have in your head. I provide hard copies and keep a set for myself.
I love what I do and I love doing it with excellently talented people. If budget will allow in a kitchen, a study, a master bath…oh…the deep pleasure of custom cabinetry!
About Donna Hoffman, The Interior Design Advocate™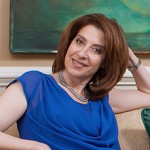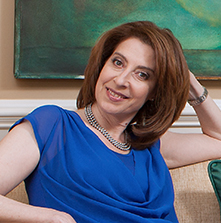 Donna is a former top QVC Show Host and now one of the country's foremost consumer advocates in interior design in addition to being an award winning designer herself. "I help people avoid wasting big dollars and unnecessary frustration when furnishing and decorating their home by offering clear strategies for finding the right products, professionals, contractors and services." The results are that people get what they want, spend smart, eliminate the stress and get that beautiful home of their dreams. Known as The Interior Design Advocate™, Donna is here as your advocate, making sure you get wise in design so you can get what you want. For more information, go to www.theinteriordesignadvocate.com.