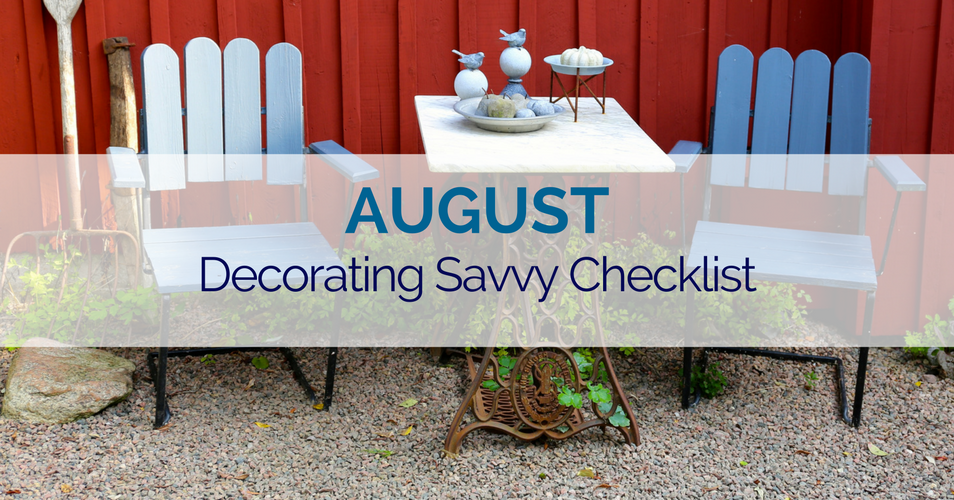 A to do list should never feel like all work and no play. Whether it's meeting a friend for drinks or breaking out the ice cream maker, be sure to add some fun to your to do list before summer slips away!
To help make room for relaxation and beauty, check out this month's Decorating Savvy Checklists! Select even just one of the actions below to make immediate improvements to your nest and life!
Update frames to give your family photos a new look and feel. Take it a step further by swapping out old pictures with some from your most recent vacation!
Soak up the final rays of summer by scheduling a mini stay-cation. Carve out time to play in the backyard with your kids or sip iced tea on the porch with a good book in hand.
Refresh the kids' rooms for back to school. Declutter, repaint, and add fun new artwork…frame some of their art projects from last year's school year!
You'll be heading inside soon. Think about flooring now. Pick 1 room and update with a new area rug, new wall to wall carpet or wood. The change will markedly update a room and make it feel fresh for your return to indoor living.
Design Project Timing Alert! Pick and plan any decorating project that must absolutely be completed by Christmas/New Years. (You're almost too late for Christmas delivery…so ask about lead times before you order!)
Small, savvy changes bring great rewards. Pick even just 1 of the ideas above, to get moving…and watch wonderful things happen at your place!