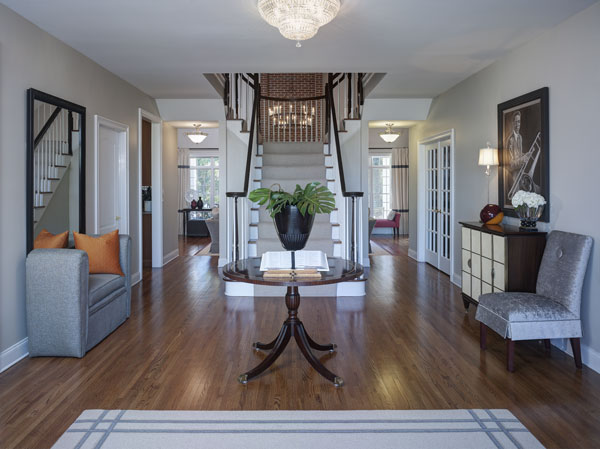 Ever notice the greenery and flora in those fabulous rooms you're lusting after on your Pinterest pinboards and in your HOUZZ  idea books? Well, my decorating lover, the first thing to know is this:  They're flora real! That's because nothing says cheesy "economy motel lobby" quite the way a fake potted plant does, other than, say,  the actual lobby of a cheesy economy motel.
So here's my shortlist if you love the look of natural greens, but lack talent, patience or lighting conditions.
Peace Lily: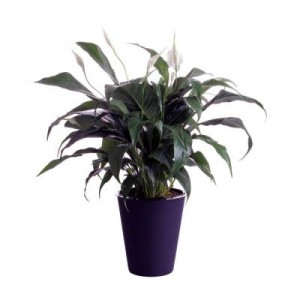 Peace Lily
Actually, this isn't a lily though it might bloom for you if you're really good (don't be fooled by the photo). It forgives low light because in its natural conditions, peace lilies grow in low light areas. It'll also tell you when its thirsty by drooping its leaves a bit –  think of it as a subtle "plant pout." The Peace Lily has a nice broad leaf and looks great in transitional, traditional or modern spaces.  It looks equally strong in footed urns or large containers as in smaller table top varieties. As if that's not enough, I just read that  NASA considers this plant one of the top 10 air cleaners.
Moth Orchid (Phalaenopsis ssp):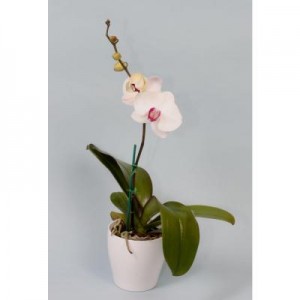 Moth Orchid
The orchid is the mother of "instant chic" in any room. These babies are also built for horticultural idiots, a group to which I proudly belong. Moth orchids don't like direct light and a fresh one can give you a bloom for 6-10 weeks. Here's the thing to remember. These bad boys don't like SOIL (go figure). In the wild, they generally attach themselves to other plants and so have a weird little root system. Unlike other plants, they don't take in their nutrients from the soil, instead they absorb them from the air. Since water logging their roots will kill them, instead just scatter 3-4 ice cubes at the roots once a week. The slow melt creates the perfect drip system for them to be able to take in water. Note:  keep your orchid potted in the container in which you buy it so the finicky roots can do their thing, and then just plop that into your better looking container.  What do you do when the bloom is over? Sometimes I toss them (please don't report me) and sometimes I give them to a local florist so she can get them to rebloom and resell them…probably to me. That's why my purchase price is kept to a $10-$20 max and easily done (you can spend up to $100 at a florist for a more exotic variety).
Rubber Plant: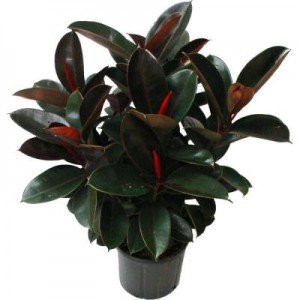 Rubber Plant
Isn't there a snappy-toe-tappy tune about this plant – or was that the rubber tree? Anyway, this little guy isn't actually a rubber plant, it's a type of fig. It'll give you a big glossy leaf and fast growing habit. They do like water, can tolerate lower light conditions, but do prefer an indirect light. The look overall is a beefy, tropical look. I also like them because they're hard to kill by the unknowing but well intentioned plant appreciater like me.
Final Plant Tip: Don't overdo it o the plant thing in a room. One great plant in a room is P.L.E.N.T.Y. Unless you hire an indoor gardener to do a vertical garden wall of multiple plantings (so great!), one plant  is all you need (except in the case of the orchid which can also look great clustered on a coffee table or console).
Next time:  The Perils of Upholstery Fabric
About Donna Hoffman, The Interior Design Advocate™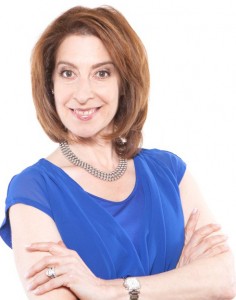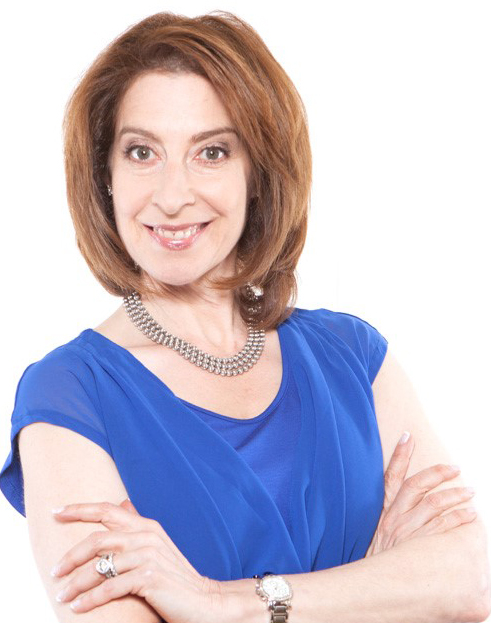 Donna is a former top QVC Show Host and now one of the country's foremost consumer advocates in interior design in addition to being an award winning designer herself. "I help people avoid wasting big dollars and unnecessary frustration when furnishing and decorating their home by offering clear strategies for finding the right products, professionals, contractors and services." The results are that people get what they want, spend smart, eliminate the stress and get that beautiful home of their dreams. Known as The Interior Design Advocate™, Donna is here as your advocate, making sure you get wise in design so you can get what you want. For more information, go to www.theinteriordesignadvocate.com.