Each month we put together a new collection of accessories that work beautifully together to style out a coffee table with a designer's touch. Coffee Table in a Box is the perfect alternative to cumbersome and confusing decor style box services. With monthly style boxes, you receive a number of items with no plan for how to arrange them. Plus, the items sent may not work with your decor. (Another trip to the post office? No thanks!)
Curated by our award-winning luxury design team, Coffee Table in a Box is a virtual decor box that allows you to pick and choose the PERfect pieces for your style and space. With this great flexibility, you can purchase one item or order the entire set!
This month, we're going glam with a fresh and feminine look made with the following ingredients: 1 glamorous marble coffee table with gold metal accents, 1 blush pink tray, 1 bold black and white decorative box, two stylish glass vases, and 1 set of sexy black stone coasters – stir and enjoy. 😉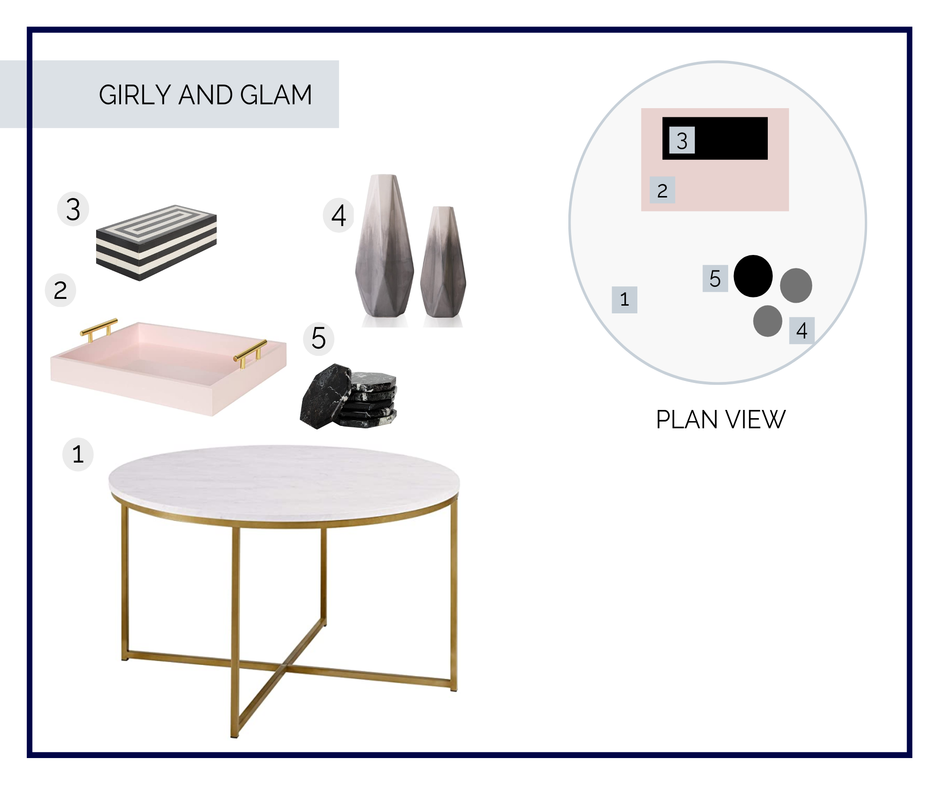 1. Coffee Table
35.5" x 18"H
Shop Now
2. Tray
16.5"L x 12"W x 3"H
Shop Now
3. Decorative Box
10"W x 4.5"W x 2.5"H

Shop Now
4. Pair of Vases
Lg: 11"H x 3"W
Sm: 8.5"H x 2.5"W
Shop Now
5. Coasters
6" Round
Shop Now
DISCLAIMER: Please double check all dimensions before ordering. Items shown we're available at the time this was created. We have no control over the price or stock of any item shown. Any quality or shipment issue should be addressed directly with the retailer.