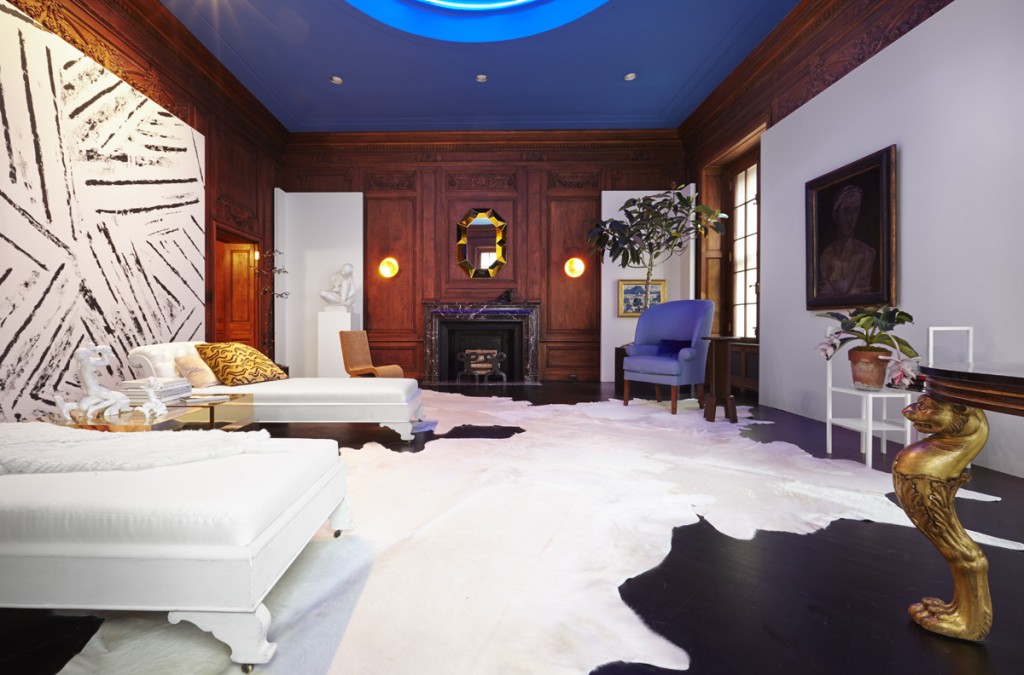 What do you get when you combine a team of tour-de-force designers with a stunning piece of architecture and healthy budgets (and sure…industry pull and relationships to get "the good stuff" shipped in an installed in about 3 hours – OK…7 weeks…). You get a sensational showing for the 2014 Kips Bay Show House!  This year was a stunner across the board. Here are take-aways:
Color of the Year
Sorry Pantone…Radiant Orchid was barely a thought. The color of the day was a Radiantly Rich Teal with just enough black in it to make it sexy and strong. The Mendelson Group featured it in their Lady's Lair that was, well…I'd like to see this Lady. Growl! Kudos  to Gideon Mendelson –  the bold suede walls (yes!), the patterned ceiling and light oak millwork – Gideon is a talent. (He's also a nice guy. We spoke for a bit and he asked if I would be willing to drape my teal scarf on a chair in exchange for a bottle of scotch.)  This same teal showed up a number of times in the showhouse…clearly the color on the mind for some design savants.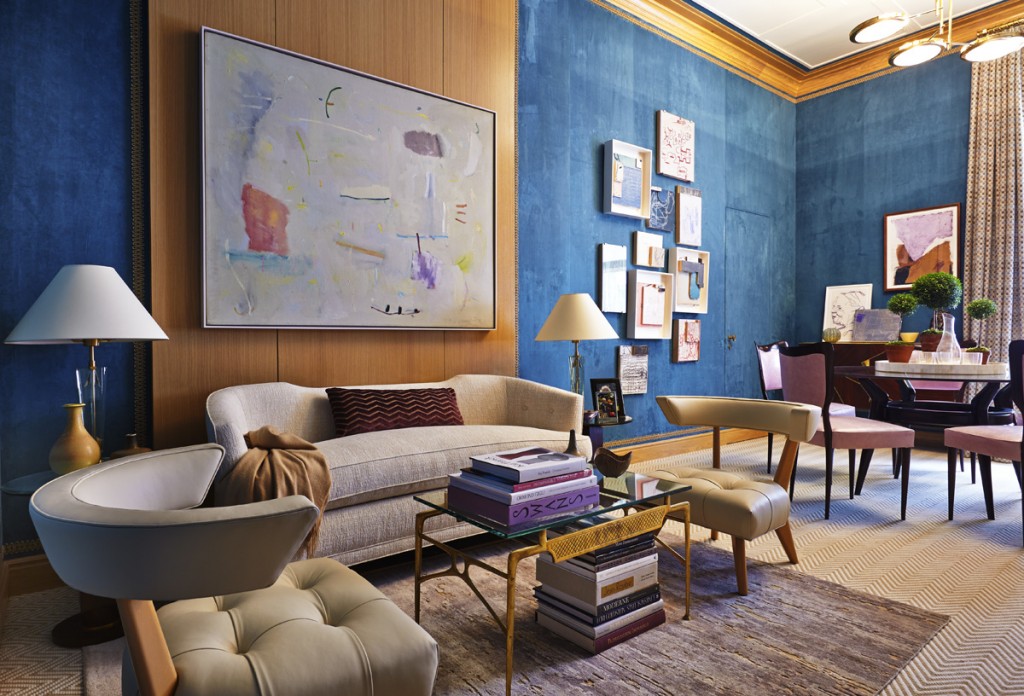 Trend Spotter
The biggest trend gaining steam:  Organic roughness combined with smooth stealth lines. Imagine split wood tables, nubby fabrics that looked like the inside of a log split in half, ceilings covered in cork, wallpaper that looked like stone, natural stone accessories that showed their formation lines combined with mid-century modern furnishings, shiny silver sculpture or tables, frosted glass.
Silver got very shiny and very glossy.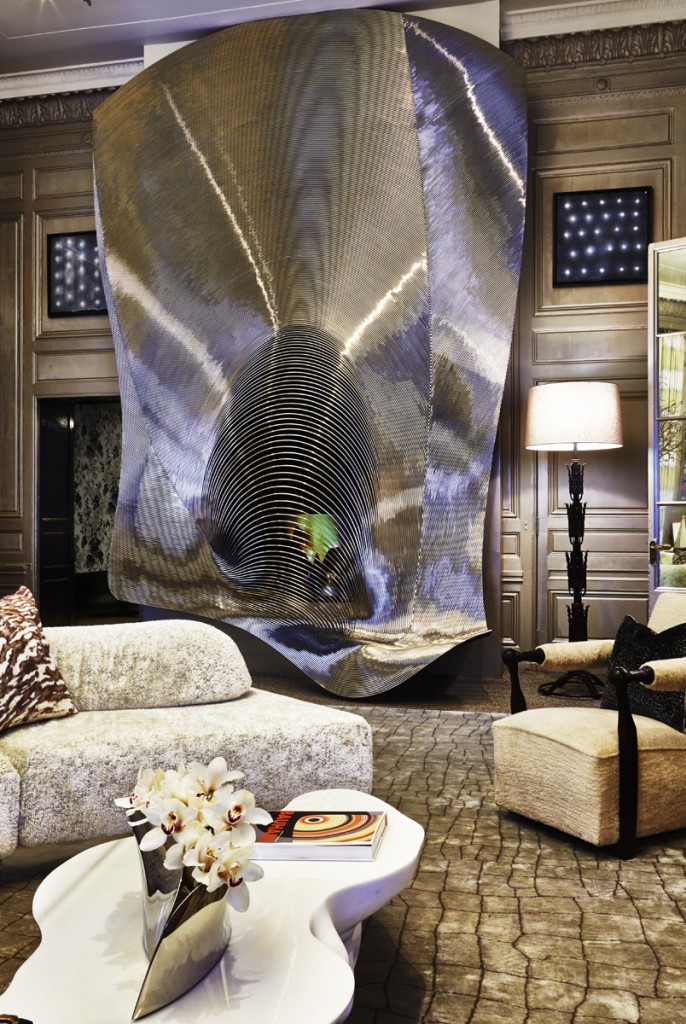 Boiserie (wood paneled room) ruled – in every color and treated finish.
High gloss lacquered finishes still showed strong.
Subway tile is getting larger.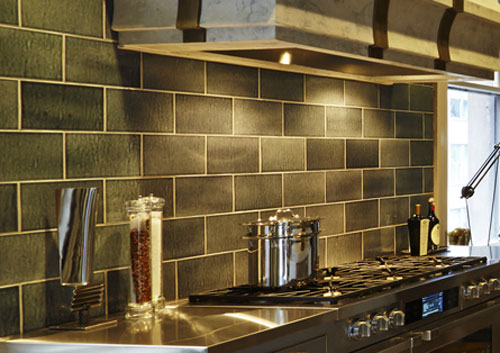 Special Kudos
Gideon Mendelson's Lady's Lair – a keeper as noted above.
Mathew Quinn's kitchen was a show stopper! I'd marry that kitchen. From the exquisite twin lacquered glass cabinet cases, to the custom aluminum hood & sub-zero panels AND…pipe-organ inspired window treatments to those sensational orbs that hung above the oversized island. If an industrial deconstructed light fixture had a night of wild drunken sex with a Hollywood glam light fixture, these orbs would be their love child. I'm all in. (With the orbs, not the drunken sex…)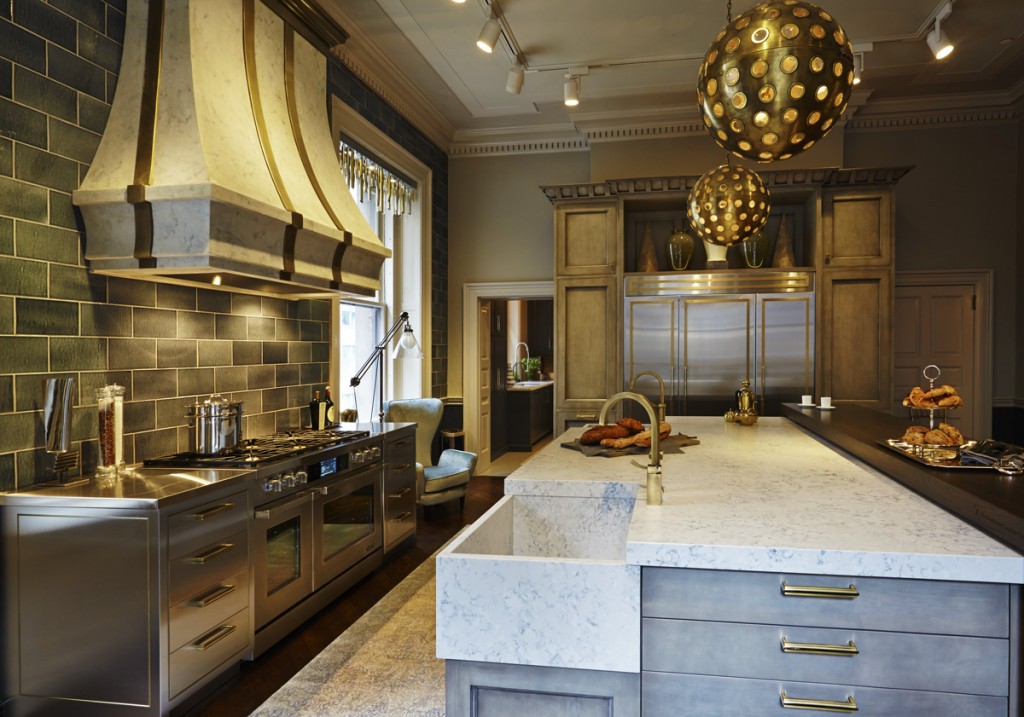 Ed Lobrano's Calming Oasis bedroom.  Rich, "Ralph," and Right on the Money.  Every texture made sense, the 4 poster bed was striking without being oppressive as they can be in these NYC spaces. The room screamed old money in a young body…modern traditional. If you can, hire Ed to design something for you. Also he's a sweet guy who I enjoyed speaking with despite the fact that his room was 110 degrees and I'm "in that time" of life (sorry for the soggy handshake, Ed).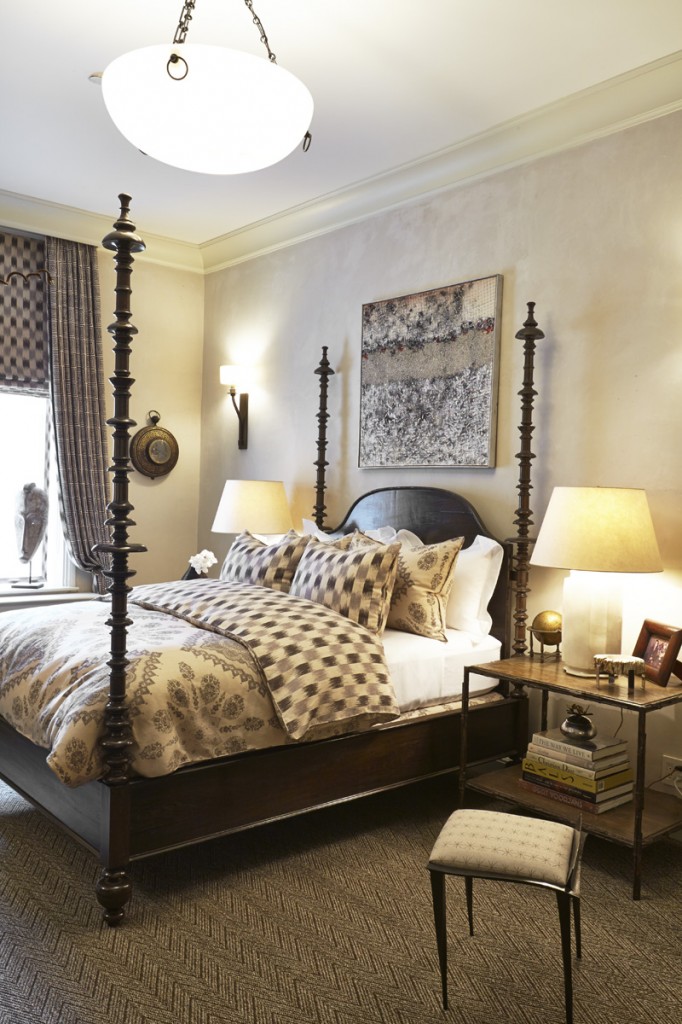 Christopher Peacock's Lady Penelope's Dressing Room…sweetly lacquered in pink.  There's very little done by this team that I don't like.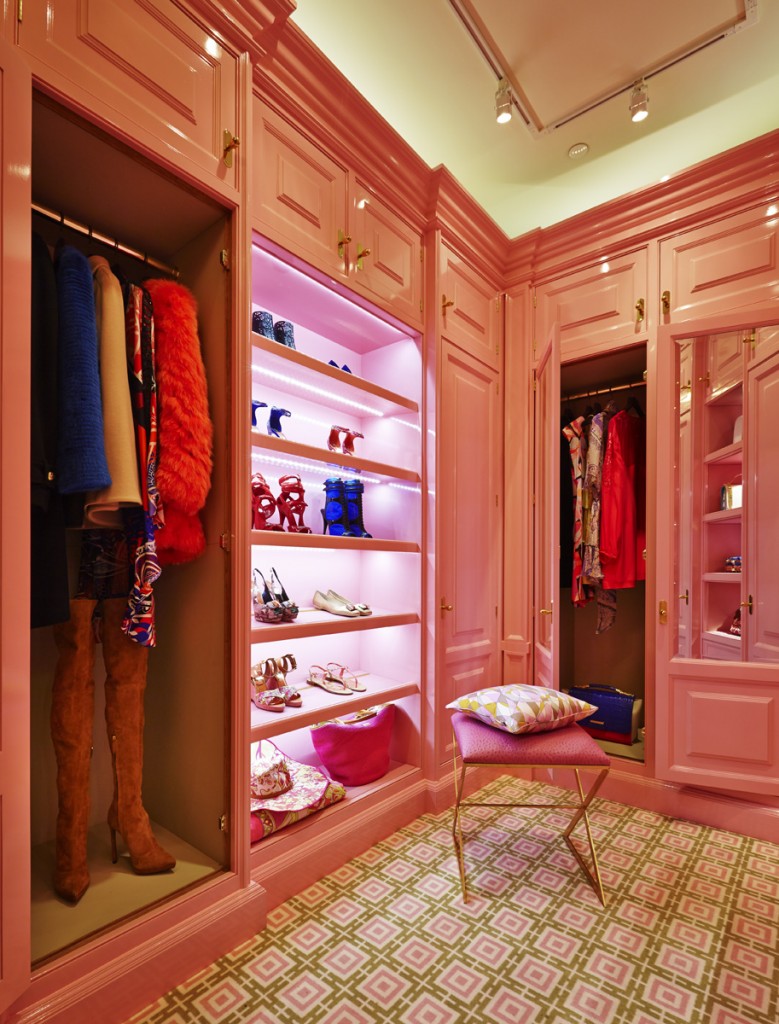 Cullman and Kravis's room called "Some Like It Hot."  This is another design group whose work I love about 10 out of 10 times. Restrained, balanced, right-on and always some bit of eye candy to enjoy (like the drop dead bead encrusted night stands).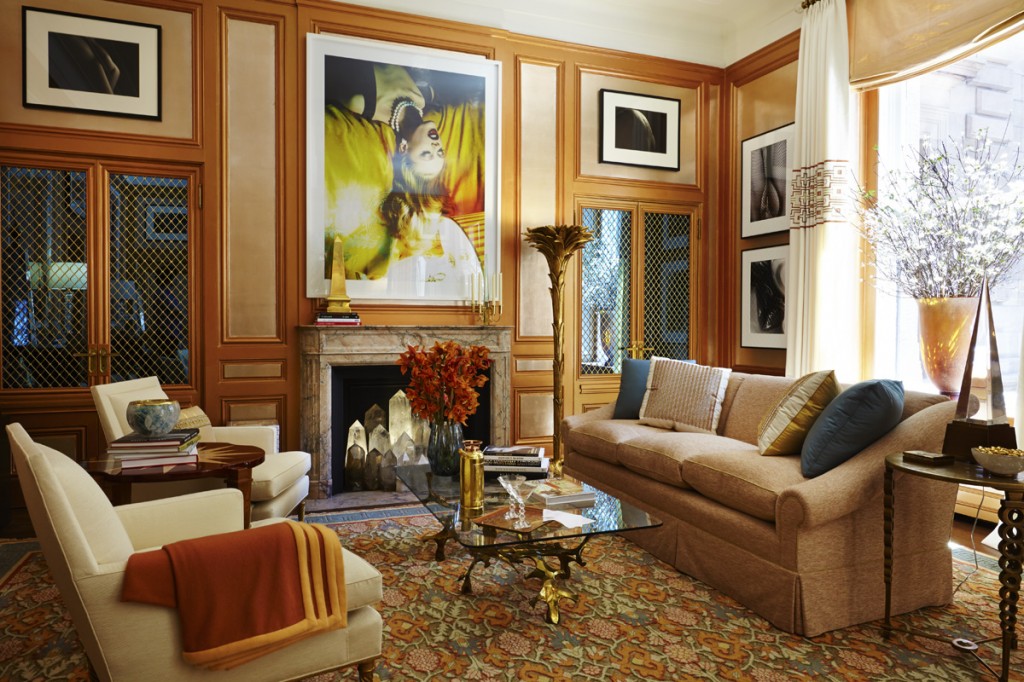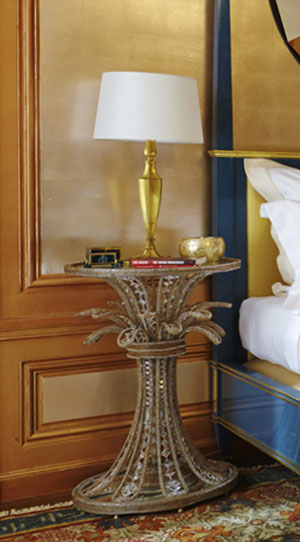 Juan Montoya's room "Untitled"….what can I say? You had me at "Juan."  Brilliant and bold combinations of textures and finishes, he and his team are fearless. Innovative furniture choices and combinations, the artwork (!) and the fireplace treatment was so unexpected and so perfect.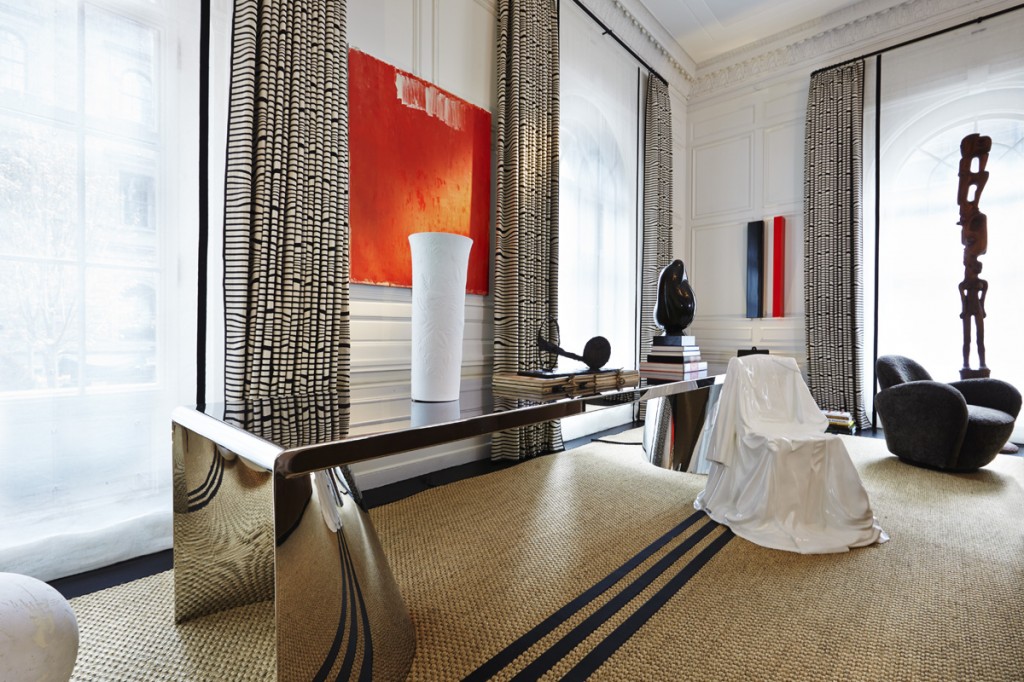 If you've never been to the design candy store called The Kips Bay Show House, oh what you are missing.  It's quite a snack….get there for a nibble next year if you can.
All photos by Timothy Bell.
Next time:  Top 10 Luxury Interior Must Haves
About Donna Hoffman, The Interior Design Advocate™

Donna is a former top QVC Show Host and now one of the country's foremost consumer advocates in interior design in addition to being an award winning designer herself. "I help people avoid wasting big dollars and unnecessary frustration when  furnishing and decorating their home by offering clear strategies for finding the right products, professionals,  contractors and services." The results are that people get what they want, spend smart, eliminate the stress and get that beautiful home of their dreams. Known as The Interior Design Advocate™, Donna is here as your advocate, making sure you get wise in design so you can get what you want. For more information, go to www.theinteriordesignadvocate.com.