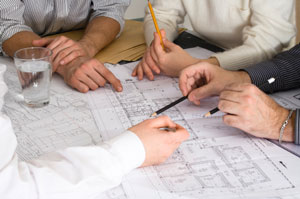 NO matter where you live, no matter WHO you are, finding the right interior designer is mission critical.  An Ideal Designer can save you from the costly ashes of a "textbook bad" design experience or result. But here's the rub:  There are fewer interior designers out there than there used to be.
The economic rattle of 2008 was not kind to the interior design industry. The bottom line according to the Bureau of Labor Statistics is that 23.2% of interior designers left the industry between May of 2008 & May of 2011. Is this good news or bad news for the design consumer?
I see only upside. Sure, you now have a narrower playing field from which to choose, but those interior designers who stayed in the game may well be the better crop. Those who have survived and thrived into the new economy are a strong, talented and adaptable breed.  These are the designers who were able to reinvent themselves or their business models,  or who were able to successfully  stay in touch with the needs of the changed design consumer, all while keeping their  design excellent and their client service equally strong. These are the superstars; these are the designers who are still standing.
I do anticipate a bit more shedding on the horizon.  I talk to colleagues across the US and beyond, and I hear a variety of tales. There are still some with too little work while others have a steady stream of work, some with wait lists to boot.
Designers are in smaller supply than they once were. But this may be good news for the design consumer. The natural selection process caused by the ripples of The Great Recession may have helped weed out the weaker links and the links less in touch with the needs of the design consumer today. You still need to be a wise designer consumer. Know what to ask and how to ask it. But be encouraged that the designer you're talking to may well be one of the newer, strong breed.
Next time: The Smart Guide to Natural Kitchen Countertops
About Donna Hoffman, The Interior Design Advocate™
Donna is a f

ormer top QVC Show Host and now one of the country's foremost consumer advocates in interior design in addition to being an award winning designer herself. "I help people avoid wasting big dollars and unnecessary frustration when  furnishing and decorating their home by offering clear strategies for finding the right products, professionals,  contractors and services." The results are that people get what they want, spend smart, eliminate the stress and get that beautiful home of their dreams. Known as The Interior Design Advocate™, Donna is here as your advocate, making sure you get wise in design so you can get what you want. For more information, go to www.theinteriordesignadvocate.com.