We've all seen the furniture ads, the in-store promotions, the mailers, or the internet pop-up ads that boast "free shipping" or "free delivery."

As a wise design consumer, you should stop and ask the question: is free furniture delivery really free? In a word? No.

Nothing in life is free, other than love, and this blog post!

Nothing in the furniture world is given to you for free, my lovely, least of all freight and delivery charges on big, bulky, pain-in-the-neck-to-transport-and-deliver items like furniture.
The Reality of "Free" Shipping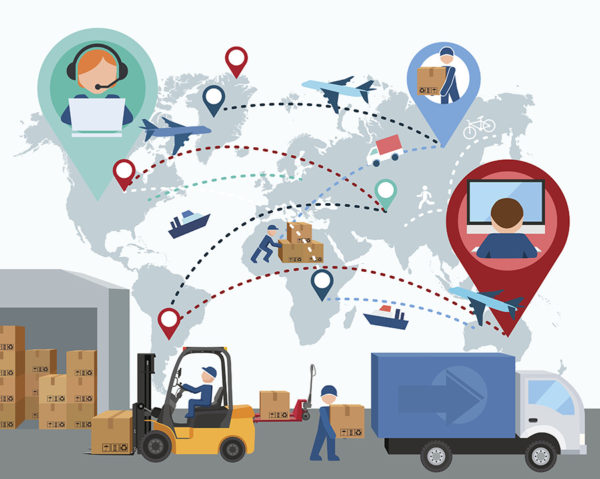 Consider this: the average 84″ sofa is 150 lbs. of dead weight, can be up to 7 feet long, and takes up 68 cubic feet when it's wrapped in a carton for shipping. Yes, a carton!
After your sofa gets manufactured, somebody's got to get it into a carton so it can get loaded onto a truck (or ship) to make its journey to your hometown.
Next, somebody else must lift your heavy, bulky sofa carton into the truck or shipping container for its journey.
Then, someone else should unload it when it arrives at a receiver in your city – normally a warehouse, not a store.
Next, some other lucky duck at the receiving company has to unwrap your sofa and check it for shipping damage. As a super heavy and bulky item, your sofa can get damaged from shifting around during "freight transport."
Assuming your sofa is in OK condition, now it has to get rewrapped, loaded onto a new delivery truck by someone else in this chain. Afterwards, another person is going to drive a truck carrying your sofa to your home. All this so that a two-man delivery crew can unwrap your sofa at your place, and carry it inside your home, place it in the exact spot you want it, and haul away the empty carton and wrapping material.
Am I Paying for That?
During your furniture's delivery journey, there are multiple factors involved. There is manpower, gas, time, labor, freight insurance, paperwork, and costs to repair the shipping damages that happen about 30% of the time.
Still Don't Think You're Paying for All That?
Trust me, "the suits" that work for the sofa company already sat in a conference room long before you ever thought about your new sofa, and they crunched the numbers to see how to price that sofa in such a way that all of the costs above get covered – by you! These individuals do it in a way so that you still want to buy the sofa, and they still make a profit!
These experts have figured out how to do all this, especially when they offer "free shipping." Remember, you are paying for this in your purchase price!
Furniture and its manufacturing is tough and challenging for any business. Hats off to every manufacturer and retailer who brings quality goods to market at a fair price.
However, it's important to stay wise to all of it. There is no furniture fairy, and nothing in the furniture world is free.