The key to truly great design is in first uncovering your own Design Fingerprint and catering to it. Done wisely, your results will be sensational.
Take this celebrity living room for example. We'll let you guess the owner at the end of the post. But for now, this celebrity, like her living room, likes bling front and center. Never shy, she has a bold personal style, yet there can be a refined elegance to the way she dresses, too. Take a decorating cue from her fabulous living room.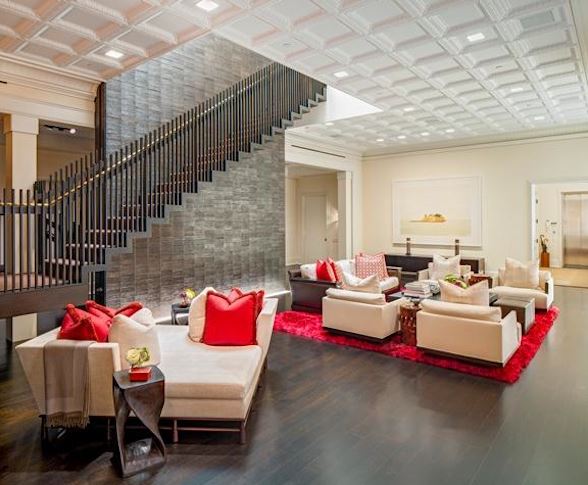 On the Yay side:
A dramatically embellished coffered ceiling – very "notice me!"

A custom wrought iron staircase – oh-so-signature.

A metalic grass silver grass cloth wall paper – va-voom!

Sleek mid century modern upholstery shapes – au courrant.

Large scale, deep sofas and chairs –invites you to stay a while.

Clearly choreographed large splashes of a softly sweet red – life of the party and wink as she passes.
On the Nay side on this design?  We come up blank!  We love this room from every angle: design, balance, rhythm, harmony.
Who do you think is the owner?
Lady Gaga

Kelly Ripa

Kelly Osboune

Melissa Rivers
Take a walk on the celeb side:  Leave a comment on the design  AND your tell me your best guess about the true celebrity owner!
About Donna Hoffman, The Interior Design Advocate™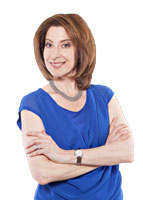 Author of the popular home design system, The Decorating Genius System – 7 Simple Steps to a Great Interior, Donna is the country's foremost consumer advocates in interior design in addition to being an award winning designer herself. "Using my design systems and strategies, I help people eliminate "decorating struggles, frustration and spending mistakes" so you can get fabulous results when decorating your own home, or hiring the right contractors." The results are people get that more beautiful home, spend smarter and finally eliminate decorating stress.  A former QVC show host and now known as The Interior Design Advocate™, Donna is here as your advocate, making sure you get wise in design so you can get what you want. For more information or to get your copy of the video series, The Decorating Genius System – 7 Simple Steps to a Great Interior, go to www.TheInteriorDesignAdvocate.com.