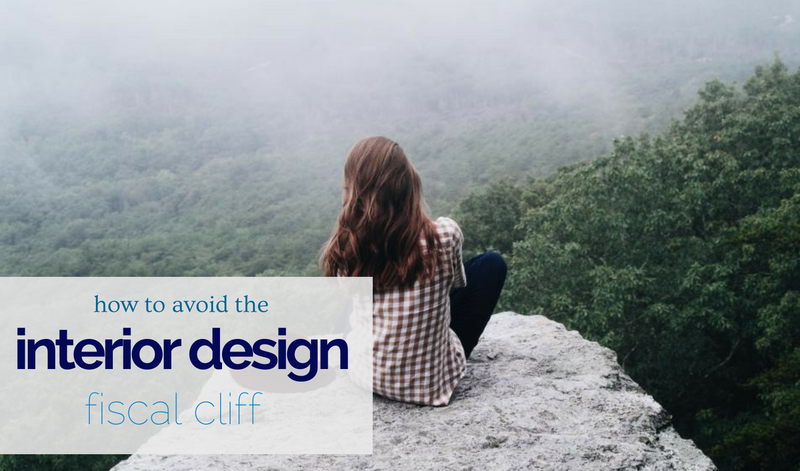 With the "Fiscal Cliff" occupying the news headlines, I thought it would be timely to talk about another cliff: The Interior Design Cliff. Take it from The Interior Design Advocate™, I talk to a lot of people each year who are about to, with wallet in hand, careen off the edge.
Tips To Avoid the Design Cliff

Set floor plans and budgets first. Surely image inspiration files are very important, but wisely designed homes use budget strategically. And you cannot assess a purchasing budget until you have a viable furniture floor plan, one that shows exact furnishings and sizes needed. Set your floor plan, then your budget – and watch your design and purchasing decisions fall into place with a fine logic.
Don't go it on your own. Even the best do-it-yourselfer cannot hold a candle to a trained and practiced pro.Civilians see what's there, pros see what's possible. Pros bring trained knowledge and practiced skill, plus resources and possibilities that are not even glimmers of thoughts in a civilian's head. You want that house or the room you're investing in to look and feel outstanding? Hire an outstanding pro.
Don't rely on a single resource. No one manufacturer, retailer or resource is ideal for everything. Designers know that you get the most from a resource by knowing who does what well and within any given price point. They also know when to walk away.
Be willing to pay for quality, even if it requires purchasing less. Your mother was right when she said that you get what you pay for. Forget style for a moment, but even for pure product performance – for example, wood finishes that don't chip, sofa cushions that don't flatten and sag – these do not come at the lowest price. Invest wisely.
Don't be bullied. Don't let any designer or furniture store salesman tell you who you are and what you should have. A great design professional should be able to assess your design finger print and project so that they in turn can explain why recommendations are being made. If you're unsure, say no.
Stay on the cliff. Interior design, done wisely and well, is one of the greatest creative processes there is. It comes with a multitude of great payoffs – not the least of which is the enhanced quality of life that comes from living daily in a home that fits you like a glove. Be wise in interior design. If not…Geronimo!