So when it comes to designing with ceiling fans, whether for the interior or exterior of your home, there are a couple of things to be aware of. And that's what I'm going to be tackling in this video.
As we dive into ceiling fans, did you know that a ceiling fan in the interior of your home can reduce the perceived temperature in a room by up to 4 degrees. That's big if you have an upper space that just doesn't have good airflow or if you are a walking hot-flash  and in terms of exterior fans in a covered exterior space like the covered porch, there are great devices for helping to keep the bugs at bay particularly mosquitoes, which do not like drafts, who knew? So those my two reasons why you do wanna move ahead with a ceiling fan.
So when it comes to ceiling fans, you wanna consider style, placement, and size.
Ceiling Fan Style
Style, well here's what I tell you for now – the four blade fan has been replaced, in terms of style, with the three blade fan, which is more modern, sleek-looking or a five blade fan, which is really wonderful in transitional environments or traditional environments.
Definitely pay attention to your finish color, make sure it marries well with the other elements in the space and ask yourself, do I want this fan to stick out or do I want it to sort of fade away? Whether or not you do a light kit at the base is totally your choice.
Ceiling Fan Placement
But did you know that it's important for placement that you stay at least eighteen inches off of your walls. In fact, why don't we take a look at a picture that depicts that. In this first image, you'll see that it's an exterior space due to its size. We have two ceiling fans, they're placed easily eighteen inches off the wall for safety. In terms of finish, had they done a white fan here, they would've stood out like sore thumbs, instead I wanted them to fade into that stain ceiling and I wanted them to marry well the furniture so I did do a very deep stain on those.
Now as far as staying eighteen inches off the wall, here is an example of where people get tricked up. This is called a wall clip. See that corner? That corner shows because of a dormer window. It's an upper floor, it's an attic bedroom, but you might have dormers on your second floor as well. You have to make sure you're staying, for safety purposes, eighteen inches off of walls and wall clips. Super important!
Ceiling Fan Sizing
And last note I'll show you, I don't know if you've seen one of these yet but this is called a fandelier. Some people love them; some people hate them. But if you hate the look of an actual bladed fan, a fandelier is actually something that looks like a light fixture but it has a very powerful, small fan built into it. Believe or not, that will power and cool that entire bedroom.
And just in case you worried about size, your fan size does need to relate to the room size that it's in. So if you have a room that's up to seventy five square feet, you need a fan between thirty nine and six inches. If your room is up to a hundred and seventy five square feet, your blade and your fan size need to be forty two and forty eight inches. If you are up to three hundred and fifty square feet in a super big room, you need a fan between fifty two and fifty six in diameter. And larger than three hundred and fifty square feet, you can go up to sixty inch fan or larger. Or you can start doing multiple fans.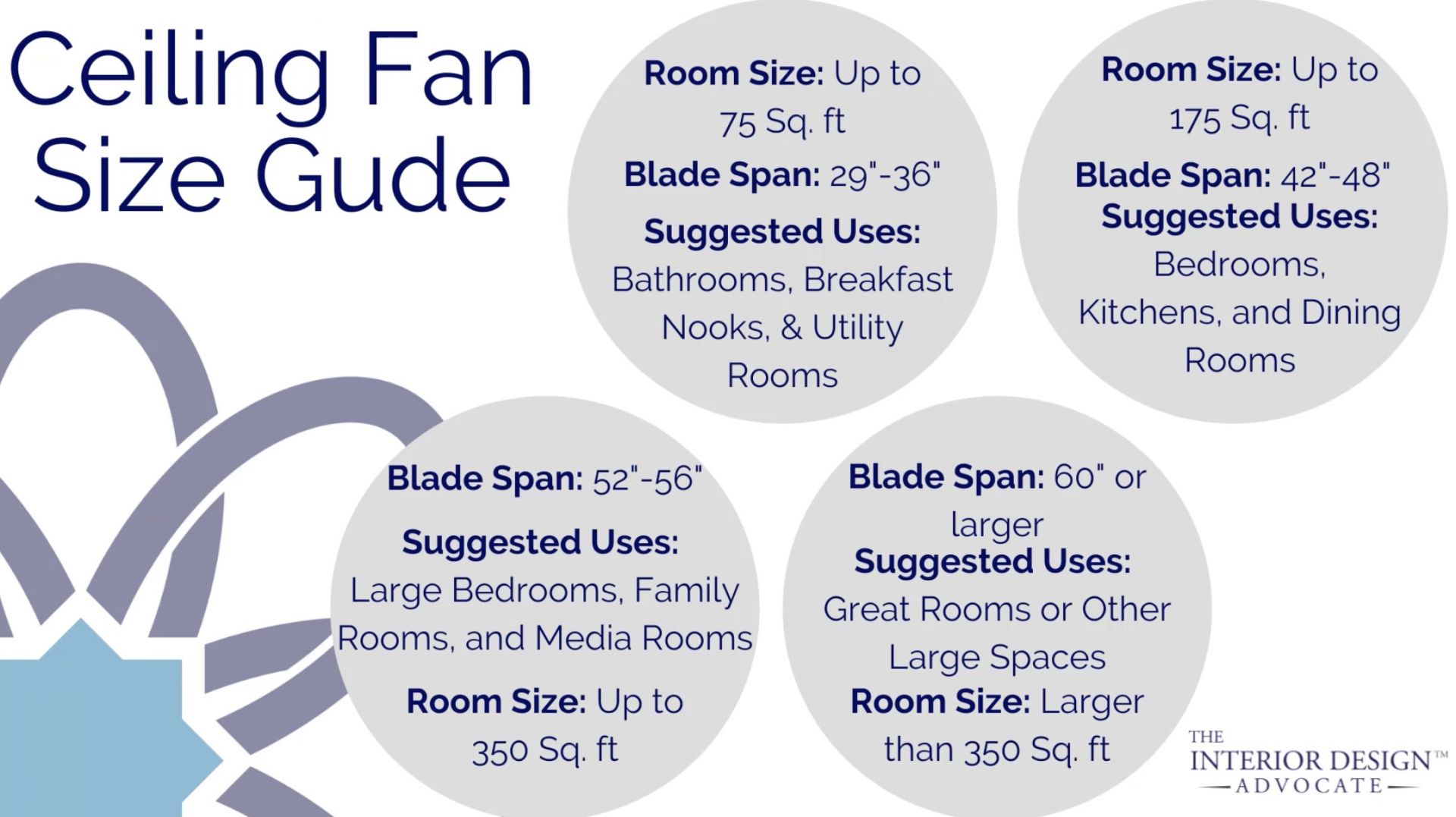 I definitely recommend that you work with your lighting store, or subcontractor, or builder to help you identify the ideal fan size if you're at all confused.
Last but not the least, I want you to make sure that you know that if you're doing an outdoor fan, make sure it's rated for outdoor use. You can't take any fan and stick into that covered porch. The motor has to be encased so that it can absolutely tolerate temperature shifts as well as moisture. So that's all it is, if you're a fan of ceiling fans, hopefully this video has been a big help.