Well, hey there love, ladies and gentlemen! If you're working on an interior design project in your home right now and you're wondering "Oh! How do I keep my costs down? How do I reuse some of what I already own? Can I really get a fresh new look?" The answer is yes you can, and this video is for you!
So, let's talk about the four tips that will absolutely help you to reuse the furniture you already own and get amazing, very fresh, new feeling results. Then take it to the four tips and then I'll show you some photo examples of what I'm teaching you.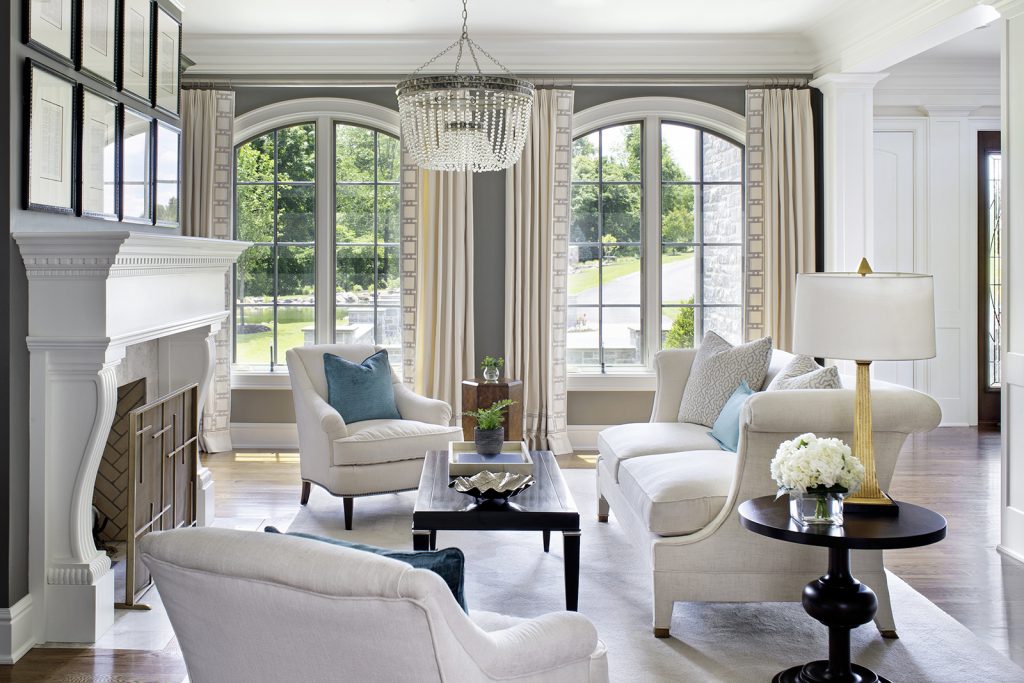 1. Measure, Catalog and Photograph Each Piece
Get out your cell phone and be sure to measure, catalog, and photograph every piece of furniture that you already own, that you wanna reuse – and that includes artwork, too. Printed out of a plain piece of printing paper as large format as possible and then get out the black sharpie marker and measure the dimensions, the length, the width of the furniture, the depth, and the height as well.
Three-hole-punch those images, stick them in a binder or profile persons. Stick them in a file because you're gonna take those with you when you're shopping. But before that even happens. Here comes step number two.
2. Do a Measured Space Plan
Step number two is the great one is to do a measured space plan. Yes, you gotta do a measured furniture space plan. I don't care if you use an online program that's free, a paid online space planning tool, or measure and do it by hand with quarter inch graph paper. Either way, space plans don't lie and it will show you exactly what will fit those things you already own and where they fit in your new plan.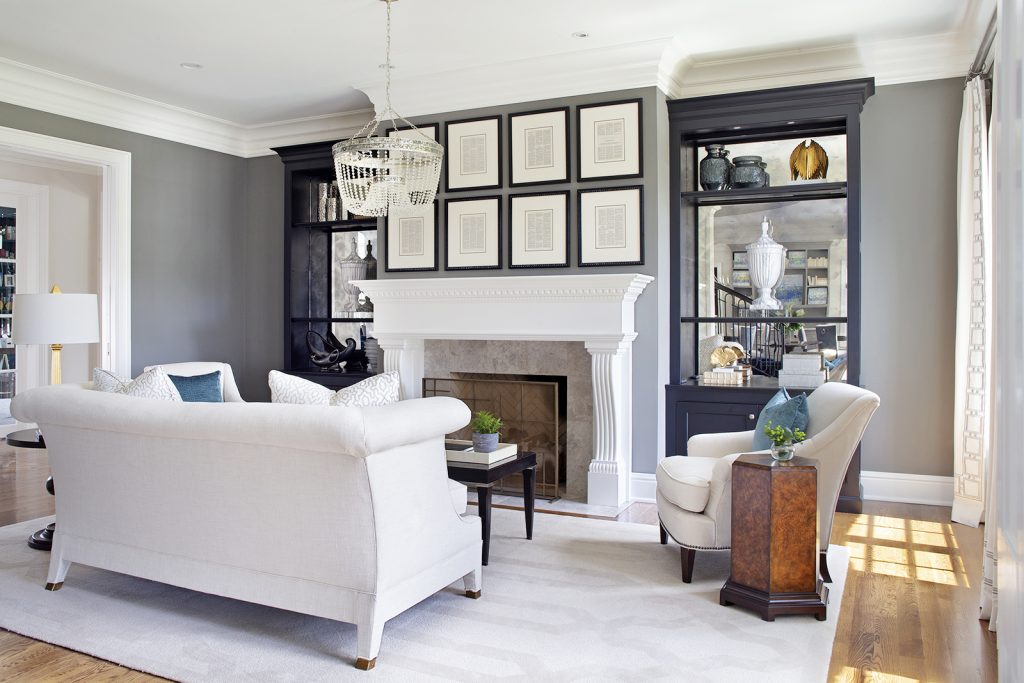 3. Use "Fresh" Eyes to Reimagine Your Pieces
Here comes number three. Step number is a goody, it's use your fresh eyes to reimagine your pieces. Don't be afraid to recolor a piece of wood furniture, reupholster a piece of upholstery. It's amazing the difference that happens when you recolor things. Maybe we wanna add patterns to an ottoman. Maybe we wanna change the legs on the sofa. Yes, a good upholsterer can do that. Not without cost but it can happen.
So, don't be afraid to reimagine your things in a new way, in a new color, perhaps even in a new size. Because sometimes a good upholsterer can actually short-nap a sofa or change out a sofa arm. So, that's tip number three. Re-imagine your pieces but new color, new finish.
4. Don't "Over-Stuff" Your Room
And here comes step number four. Step four is simple but powerful – don't overstuff your rooms. It's tempting to say, well, I already own this piece, so I may as well shove??? it in the living room. There's no shoving in a fine interior design. Great looking rooms have a little  breathing space, don't over cram, over stuff spaces just because you own the furniture. Let's take a look at some examples in these photos.
Here we go, ready? Take a look at this image. It's a before image of a family room.
For my money, there's way too much furniture crammed into this room. How do I know? Well, I can see it but I also designed it. Why is it crammed with so much furniture? Because my client insisted upon all of that furniture in that room. Always make the client happy. But, take a look at how we are going to reuse some of these furniture in their new home.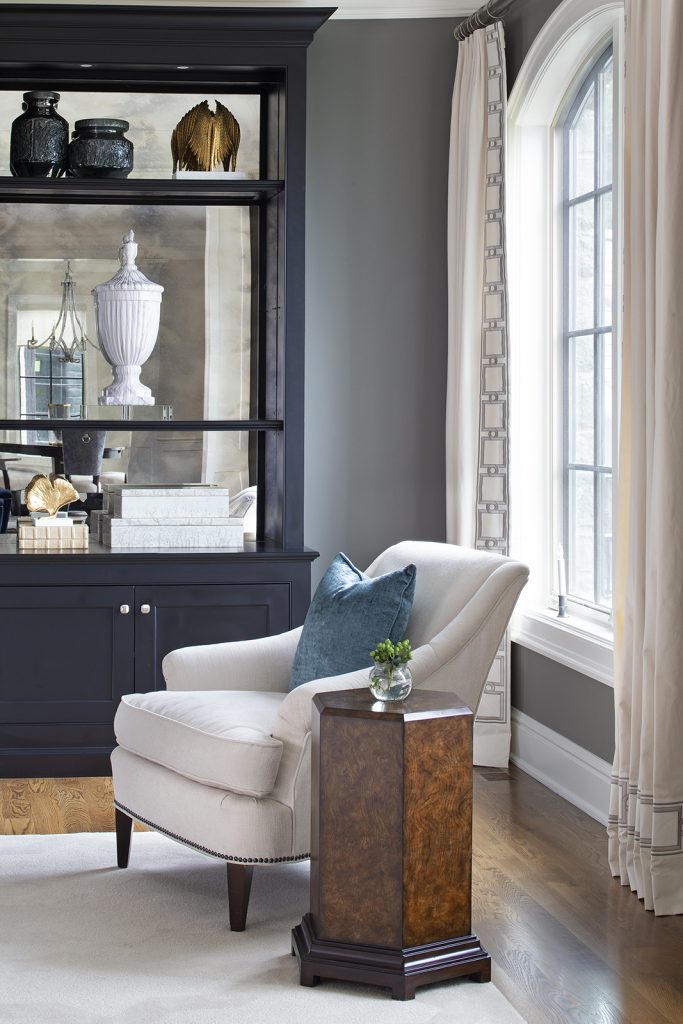 Watch the two sofas and take a look in your brain, take a little picture at those two chairs, ready? Here we go. Wow! Take a look at this new sitting area, same sofa, same chairs. But the chairs have now been re-upholstered in a new color. But boy do they feel so different? The chairs and that sofa, because there's a dynamic. New rug, great new lamps and tables, exciting art, great cocktail table, totally new environment, and totally new vibe.
Now remember that sofa, there are two of those sofas. So, take a look at this picture, same home is now sitting in the sitting area of a very large, very beautiful rustic glam bedroom, pretty great! So, yes, you can reuse your furniture to great effect.
And take a look at this picture, I love this, beautiful blue Chas. Well, this beautiful blue Chas makes a great note in this room. But let me tell you it's been repainted to this beautiful color. Take a look at it beforehand in that picture. Hooh! Very different vibe, very different look. See what I mean? If you reenvision the color of your items. If you reenvision what they're combined with? What were they placed? Oh my gosh! Amazing things can happen.
So, listen lovely, I know you can do these, too! You're smart, I'm cheering for you and you're talented. Go! Go reuse that furniture and have gorgeous results on me.