Without a doubt, window treatments are huge drivers in the design of any room.
More than almost any other single design element, window treatments have a massive impact on the way a room looks and feels.
Any design pro will agree that window treatments are hugely impactful in a room's overall "success" or failure.
The average home, according to Home Accents Today, has 16 windows.
That's 16 opportunities to create success or failure in your home's interior design.
The other, possibly worse news, is that since nothing makes a room look more outdated than outdated window treatments, that means that the average home has 16 opportunities to make a room look off-kilter or outdated.
#designfail.
Or should we now say…
#designfailnomore!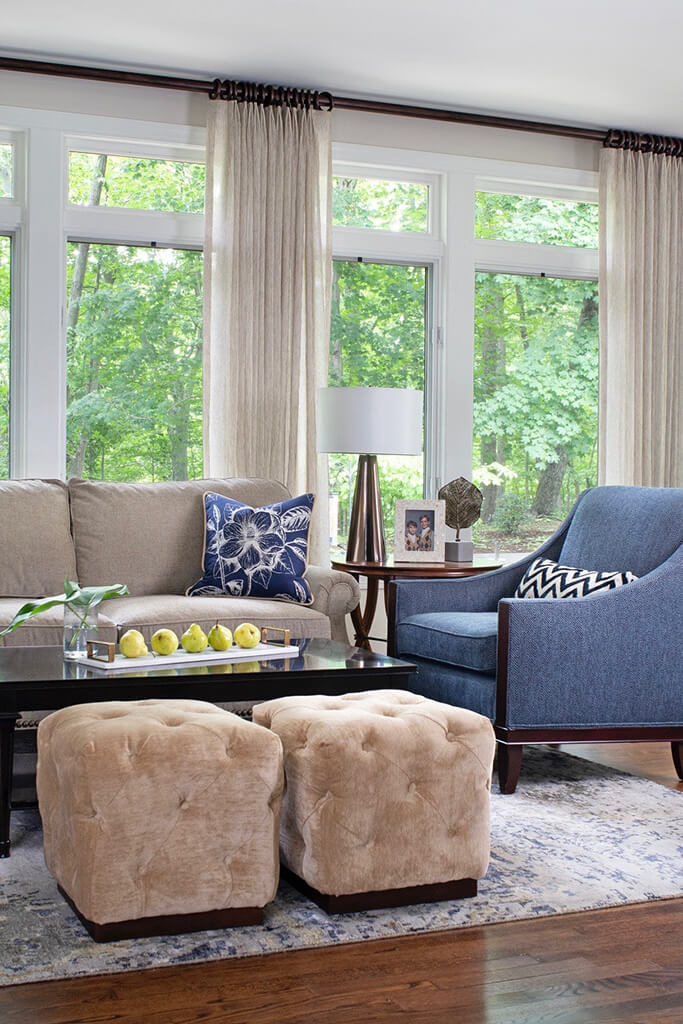 Why are window treatments SO powerful in design?
Think about it this way: No matter the window treatment style you design or select, your window treatments surround the single costliest architectural element in any of your rooms, other than a fireplace or coffered ceiling…your windows!
(And, I'd put your windows on par with the importance of those other signature architectural elements)
Let's face it, glass and view are expensive elements!
Ask any builder or architect and they'll confirm that you pay dearly for your windows, all of that great glass in your home's architecture.
Whether you're paying with a rent check, a mortgage payment or a trust fund one-lump-sum payment, you ARE paying. 😉
Window and window glass are a huge architectural element aesthetically…which can be really good news for us as you'll see in a sec.
When Do Window Treatments Matter Most?
Unless you are doing Modern Minimalist, in which case you want an untreated or barely treated window, you should leverage the power of window treatments to turbo charge any design style and room.
Said another way: unless you are doing Modern Minimalist bare, steel framed windows, window treatments are your room's game changer!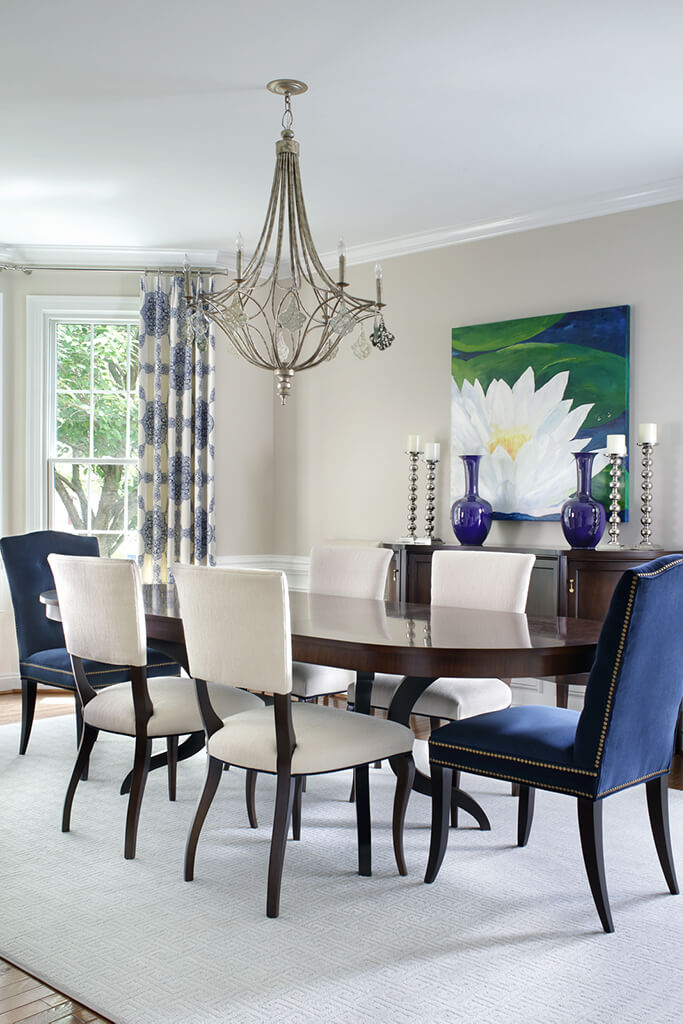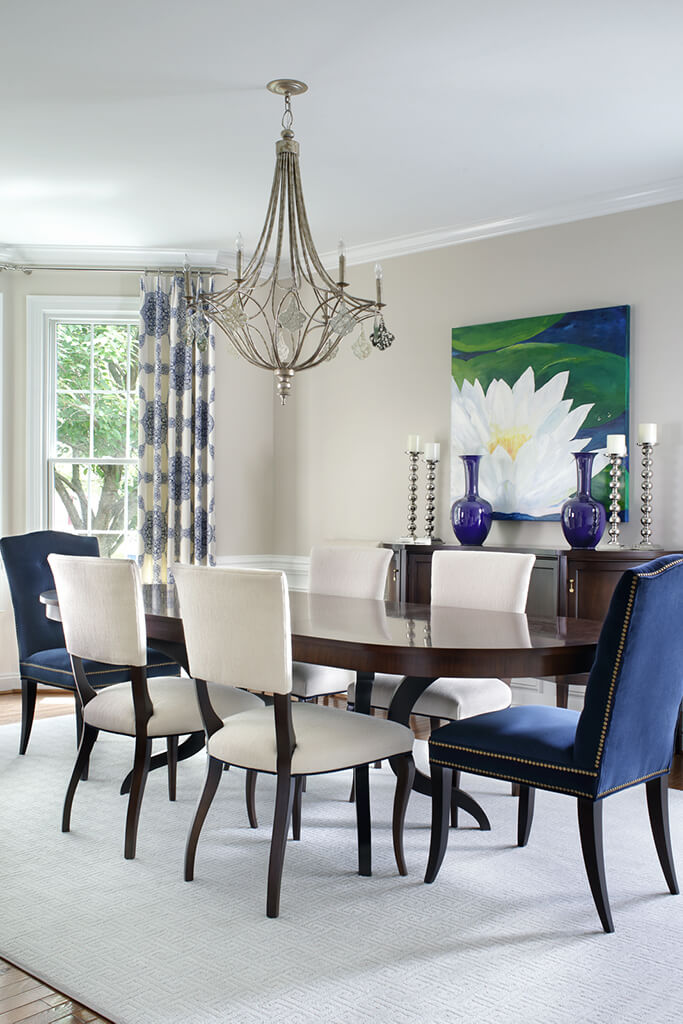 Does design style matter?
There is a massive net that catches all the design styles that thrive on some kind of treated window. California Casual. Transitional. Traditional. Rustic. Farmhouse. Farmhouse Modern. Farmhouse Glam. Rustic Modern. Scandi Modern. Maximalist. Boho.
For just about every design style, and no matter how simple or layered your treatments are – any room, without window treatments, in just about any design style other than Modern Minimalist, looks and feels undone, underdone, bare, sparse and cold.
Yeeesh, right?
Take it a step further: No matter how much money you spend on ALL of the other room's furnishings, if you stop short of doing your window treatments, you'll get a room that lands with a big thud.
Whether you're not addressing window treatments because you're not sure what to do, or you don't know how to update what you've got, or you think it'll all be too costly – no matter your reasoning for falling short in this category if you do you can bank on this:
All of your money, effort and time spent on ALL of the other room's appointments will  ALSO add up to a big, loud thud if your window treatments are either non-existent, a total disaster or just a big disappointment.
Let's straighten out your thinking on window treatments once and for all. What can you learn about them that can align your thinking for success?
First, as a wise design lover, when it comes to window treatments, you need to forever toggle between your design style, your design fingerprint and window treatment trends.
3 Window Treatment Trends to Try
3 to Avoid
And by the way, if you'd like more info on window treatment trends, check out my cheat sheet:
Download Cheat Sheet Now!
So now, here are the ways you can look to and leverage window treatment to transform spaces.
Take note of these Rules of the Road. Then look at a room in your home so you can identify which one you should/could/hope to apply to your space.
Rules of the Road: How Window Treatments Transform Spaces: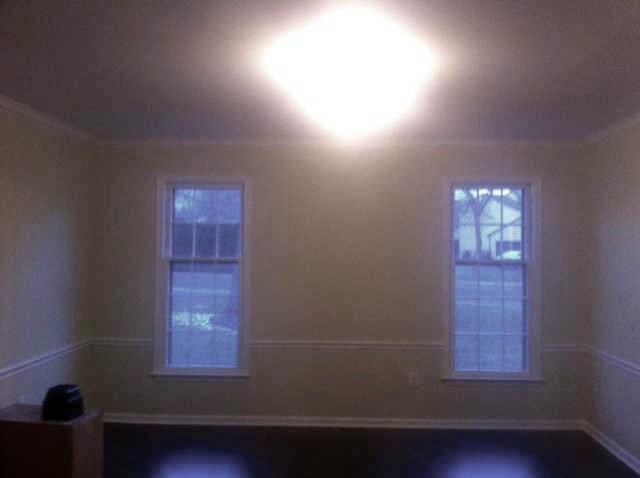 Transforms Nothing Special Windows:
Yes, you read that right. Correctly selected and conceived, your window treatments transform nothing special, ho-hum windows into important looking pieces of your architecture.
We've all got 'em. That plain room, with plain windows. Take a look at this "before" picture that shows an 8' ceiling room with 2, 36" wide windows.
The room is pretty much a box with 2 rectangular windows in it, right?
Now, look at the "after" picture. Now, these bland windows have been transformed into something your eye is immediately drawn to.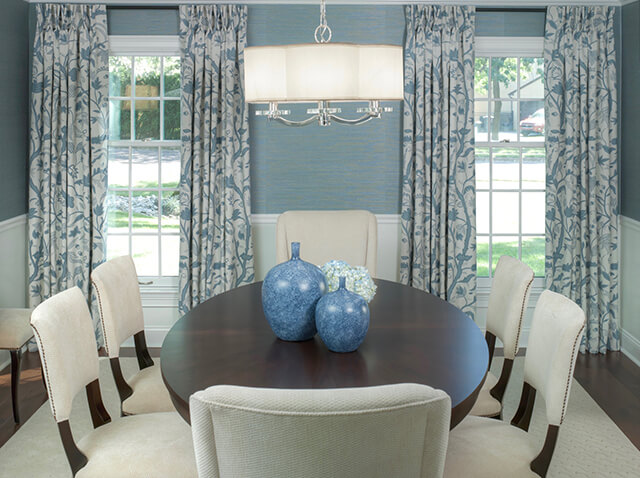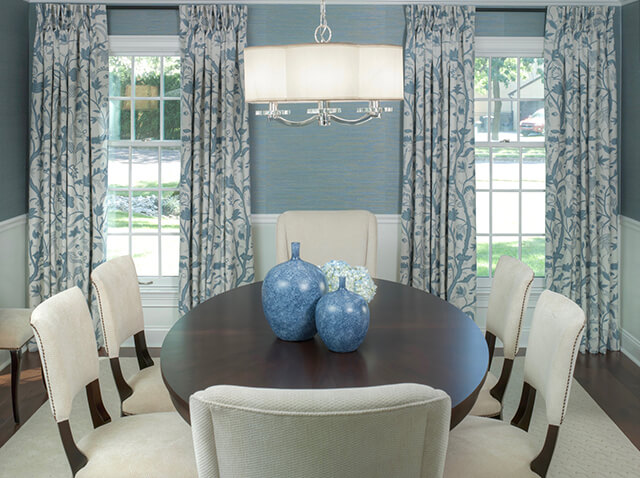 No sledgehammer. No enlarged windows with transoms. No 9' or 10' ceilings. (a girl can dream, right?)
No need to dream!
YOU can improve the most ho-hum windows if you do your window treatments right.
This truism applies to ANY design style. Look past this transitional space if you're not a transitional design woman. This truism works in every design style named above that thrives and completes with treated windows.
Creates a Rhythm in a Room:
Rhythm in interior design sounds like an advanced and scary topic, but its more logical than you think.
You like certain music because you like the beat, you like its repetitive rhythm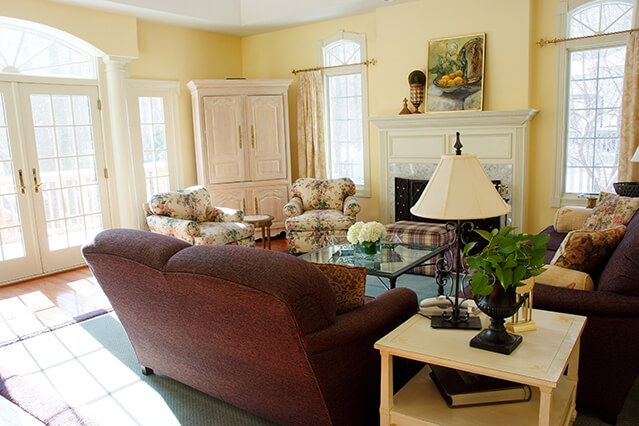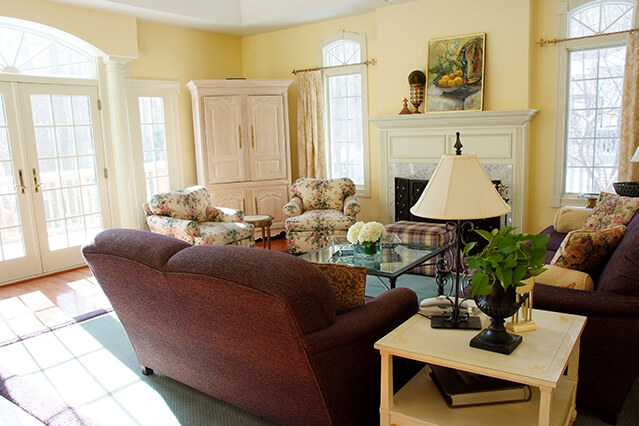 Design – or more accurately – the visual element in design – do the same thing.
You can use window treatments to create an exciting layer in a room that provides and drives a visual rhythm.
Notice in this "before" image, the window treatments are just…there.
Here in the "after", the repeated taped band AND the repeated shape of the columns of fabric impact the way you perceive this space and feel about this room.
The strategically intended rhythm in the window treatments moves the eye through the room.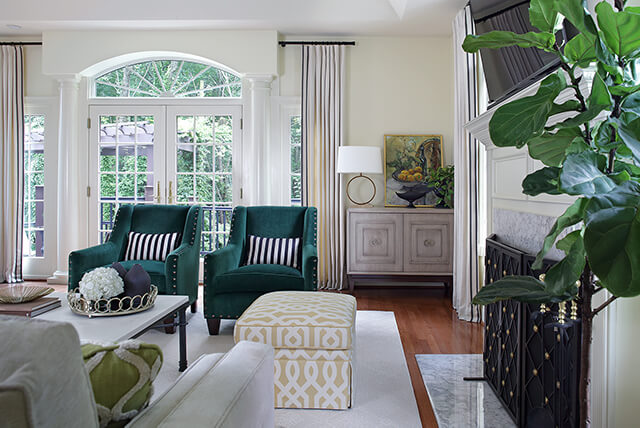 The black band specifically repeats the black accents that run through the artwork and accessories as well.
Visual rhythm not only moves the eye, but also, through its repetition, it says "look at me."
Visual rhythm in window treatments create a sense of importance in a room. Every. Single. Time.
There are a number of ways to drive rhythm in a room, (but that's another blog post and lesson that I will be teaching at our live conference, so it's too big a topic to dive into here).
But Window treatments are among the easiest and most powerful ways you can drive a striking rhythm in a room – from restful to eye catching, especially in a heavily windowed room.
Creates an Instant Star of the Room or an Immediate Back-Up-Singer:
Even the most skilled design pro with tell you that the simplest way to create a Chia-pet fabulous room (just add water and grow!)….is to follow this recipe.
Decide upfront if you want your window treatments to be the quiet back notes in your room, like the great back-up singers of the best girl's group.
OR, conversely, decide if your window treatments will be the STAR of the room.
Make this decision early and follow your plan, and your chances of success double.
A star of the room window treatment moves forward and is one of the first things you notice in a room. You can achieve this by selecting a bold print or a striking color for your treatments.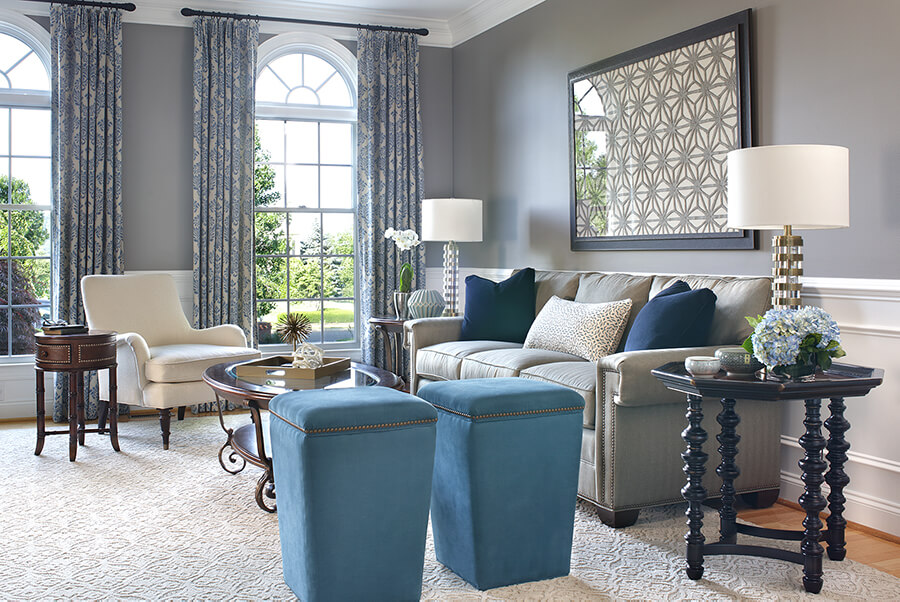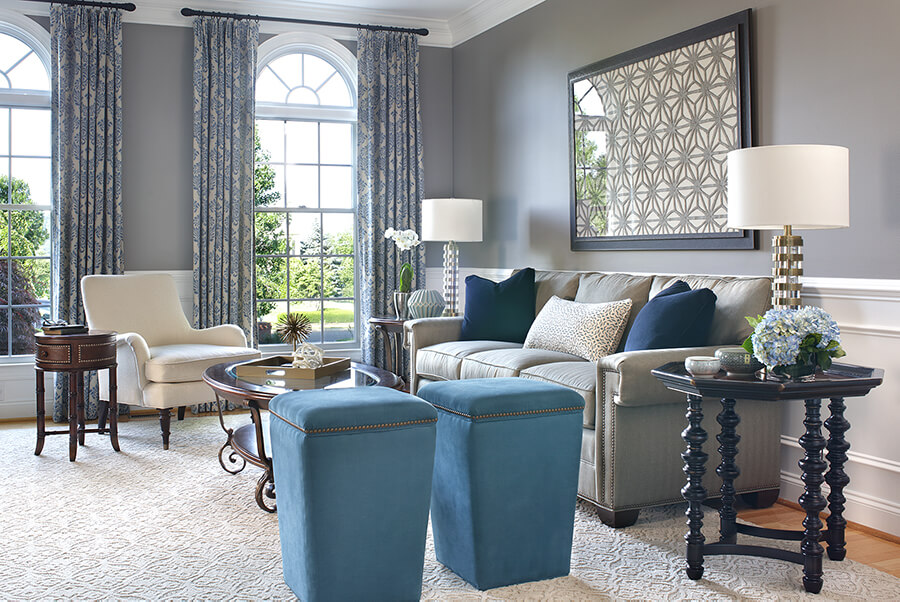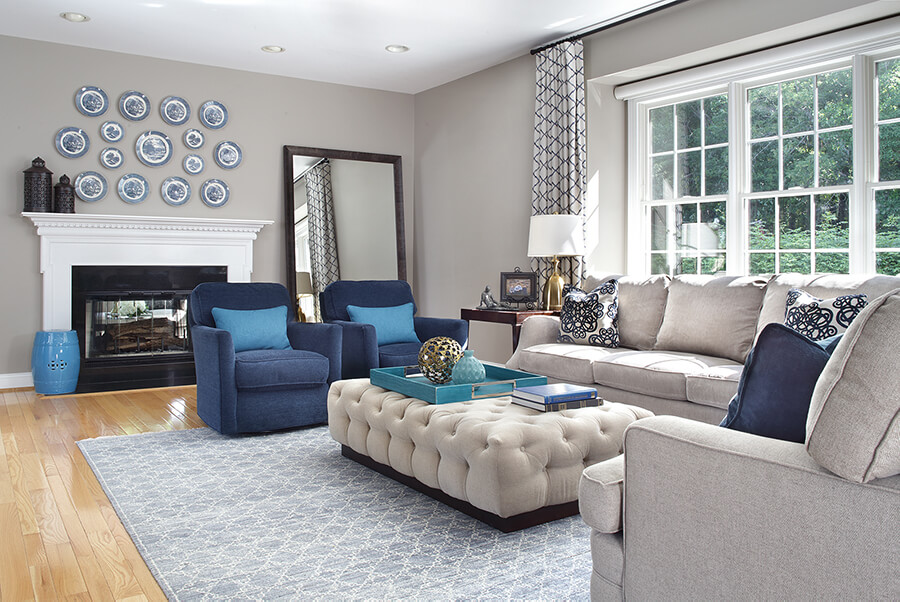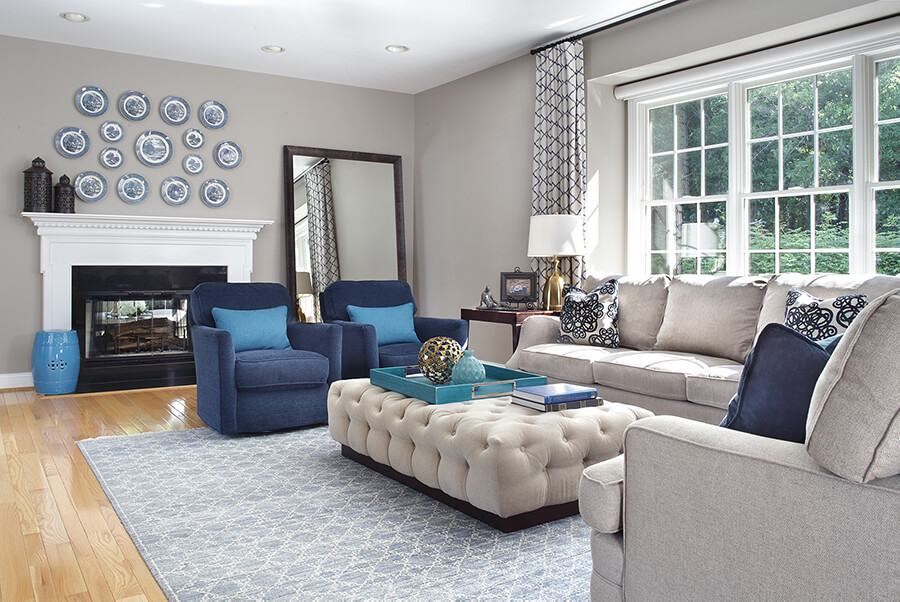 On the other hand, a back-up singer treatment is a quiet but important background note and rhythm that reinforces and supports the room, but doesn't grab all of the attention.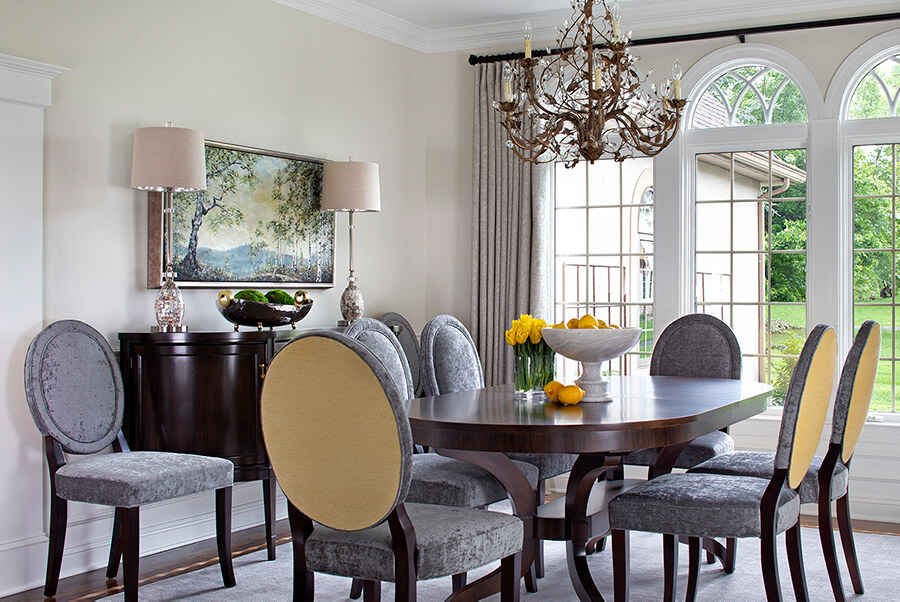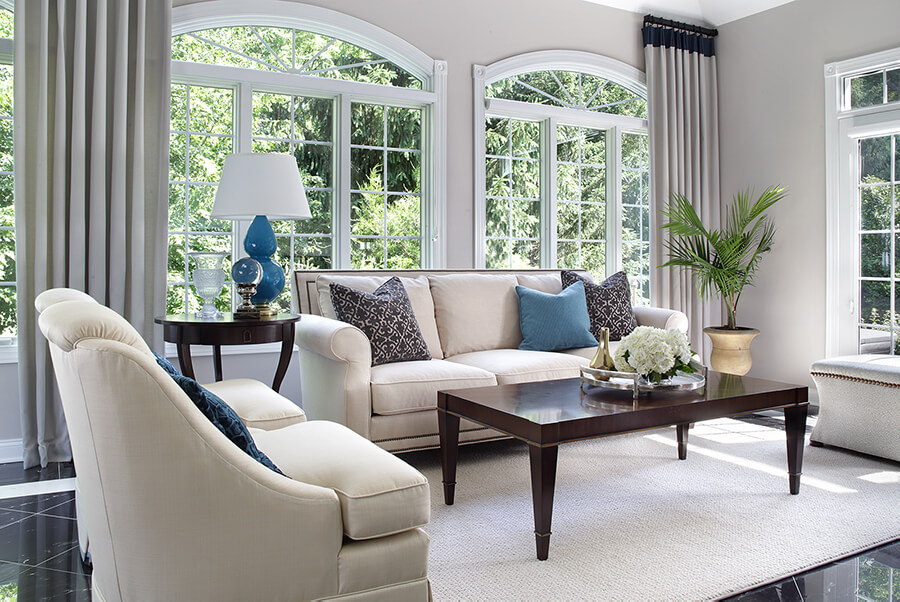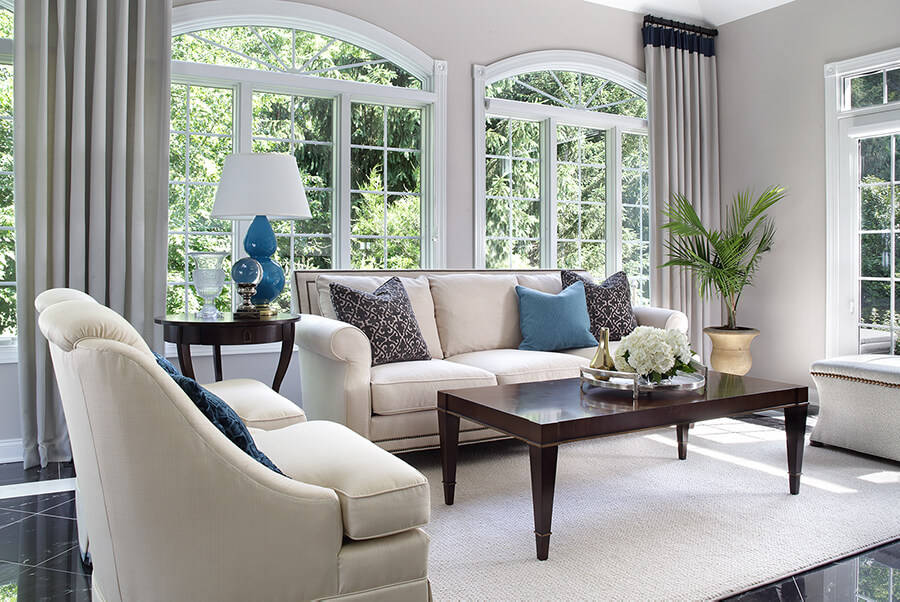 Creates the Finishing Touch:
I cannot stress enough the importance of window treatments, however simple or quiet they are, to give ANY room a finishing touch.
Without window treatments, your room will look like a face you drew without one eyebrow or an upper lip…something will look off.
It doesn't need to be a fabric treatment.
It doesn't need to be the costliest treatment on the block.
But it needs to be SOMETHING (repeat, unless you're a modern minimalist).
Do not ignore your window treatments because you feel lost when it comes to planning and selecting the right ones.
If you do this, you'll run out of budget funds because you didn't plan for them – out of fear.
This is where I see a TON of my students go wrong.
Yes, design fear has ruined more rooms than you can count on Houzz.
Don't let that happen to you: Plan your treatments in your earliest budgeting and keep them in your total room design "thinking." Keep them in mind until the very end…AKA…until they are installed and looking amazing!
Provides an Important – or – Alternative Texture:
Whether you do readymade, semi-custom or custom treatments is NOT the issue.
Providing an important texture in a room or providing an alternative texture in a room IS the issue. An important issue!
If you have a bedroom filled with rustic woods and black iron, add an interesting softening note with simple solid fabric window panels. Or maybe add solid fabric panels WITH woven wood blinds for ANOTHER texture in the room.
Do you have a room full of hard finishes, like a kitchen with all the cabinetry, tile and counter?? Adding a soft fabric "something" at the window can be your much-needed alternative texture.
Imagine a Hollywood Glam bedroom that doesn't have any shine in it yet other than the crystal chandelier? Amp up the room's design style by surrounding THE FOCAL POINT (yep,…the windows)) with a shiny silk or faux silk drapery panel or valance.
Wrap Up:
Like all of design, strategy, not guesswork will always steer you to the finish line: a gorgeous room you really love.
Never, ever, underestimate the power of window treatments to completely update, transform or gorgeously enhance ANY room, in just about any design style.
Again, it doesn't matter if you're going readymade, semi-custom or custom.
What DOES matter is…strategy.
3 Window Treatment Trends to Try
3 to Avoid
And by the way, if you'd like more info on window treatment trends, check out my cheat sheet:
Download Cheat Sheet Now!