Five grand sounds like a lot of money, doesn't it? If it fell out of your wallet, you'd sure feel like you'd just lost a lot of money. And you'd be right. But, 5 G's in interior design doesn't go as far as most people think it will (or should). Particularly in luxury or high end design.
In fact, $5k is a facelift only in the mid-range end of interior design. Here's an example of a facelift project that had a $5,000 budget for purchasing (that's purchasing…design services not included).
This living room was looking dated so some higher impact items were replaced to infuse a dose of hip and fresh. Luckily, the window treatments were quite good and the wallpaper, though no longer a favorite for the homeowner, still worked. Here's what happened.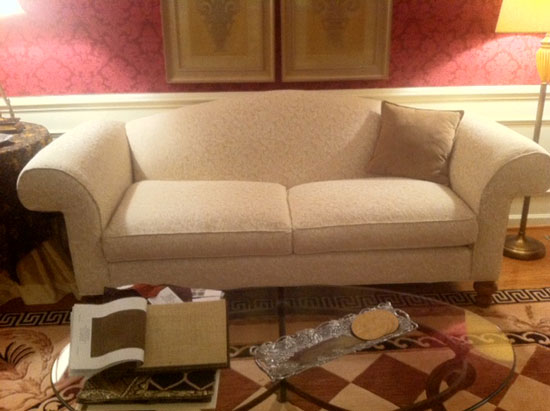 Sofa update. Here is the same sofa, recut and recovered in a lovely value driven fabric. We eliminated the dated rolled arm and decided to square off the former soft camel back. A block leg replaces the former turned foot. We went mid century modern all the way. Retail price with pick up and delivery: $2,475.
Rug Update. Unfortunately, the former carpet kept the family out of this room because it emitted an unpleasant odor on humid days and was badly stained, all thanks to a former lovable pet. In keeping with the mid-century modern direction – and the budget – this new California berber is a chic but comfy home run with the family. Retail: $1,430.
End table update. Check out this fabulicious chest by Maitland Smith found at a local floor sample sale due to a small surface scratch – $980. Sold!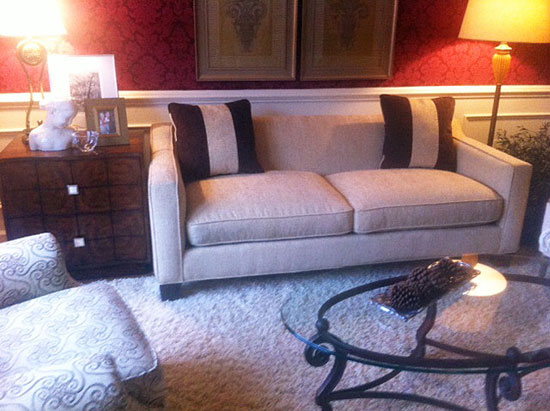 Total room facelift: $4,885.
That was a fast but strategic $5,000, no? Smart decisions bring great results. What a huge difference we made here.
Knowing when to spend, how and where is a button not all civilians know how to push. That's where TIDA comes in. Let us be your guide when it comes to learning the strategies to finding the right services, professionals or furnishings.
Next time:  Design Excitement at the Kips Bay Decorator Showhouse
About Donna Hoffman, The Interior Design Advocate™

Donna is a former top QVC Show Host and now one of the country's foremost consumer advocates in interior design in addition to being an award winning designer herself. "I help people avoid wasting big dollars and unnecessary frustration when  furnishing and decorating their home by offering clear strategies for finding the right products, professionals,  contractors and services." The results are that people get what they want, spend smart, eliminate the stress and get that beautiful home of their dreams. Known as The Interior Design Advocate™, Donna is here as your advocate, making sure you get wise in design so you can get what you want. For more information, go to www.theinteriordesignadvocate.com.