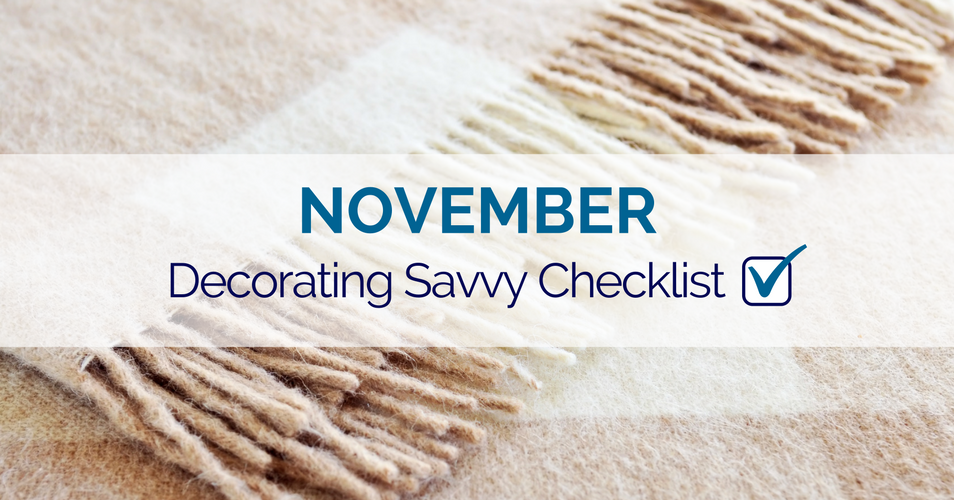 This isn't the month to start working on a major design project. However, if you find time in between cleaning up Halloween candy wrappers and hosting holiday guests you can pick even just one of the items below can to make immediate improvements to your nest and life!
Get organized for holiday cooking and baking by sorting through cookware. Toss any old or broken items and make a list of anything you need to buy before hosting this holiday season.
Prep for chilly winter nights by adding cozy accents to your home! Pillows and chenille, velvet or faux fur throws can add plush magic to a room!
Rearrange one bookcase or open shelving area for a quick facelift. Step 1: Empty all content. Step 2: Eliminate ¼ of the items that were there. Step 3: Restyle with fresh eyes, leaving more room for empty space.
Protect your entry floors from salt, ice, and snow by investing in durable interior and exterior welcome mats.
Get out those Christmas items – it's time to decorate! Halloween should be completely taken down by now. Either mesh Christmas decorations with your Thanksgiving décor, or plan for a complete change over on Black Friday!
Small, savvy changes bring great rewards. Pick even just 1 of the ideas above, to get moving…and watch wonderful things happen at your place!