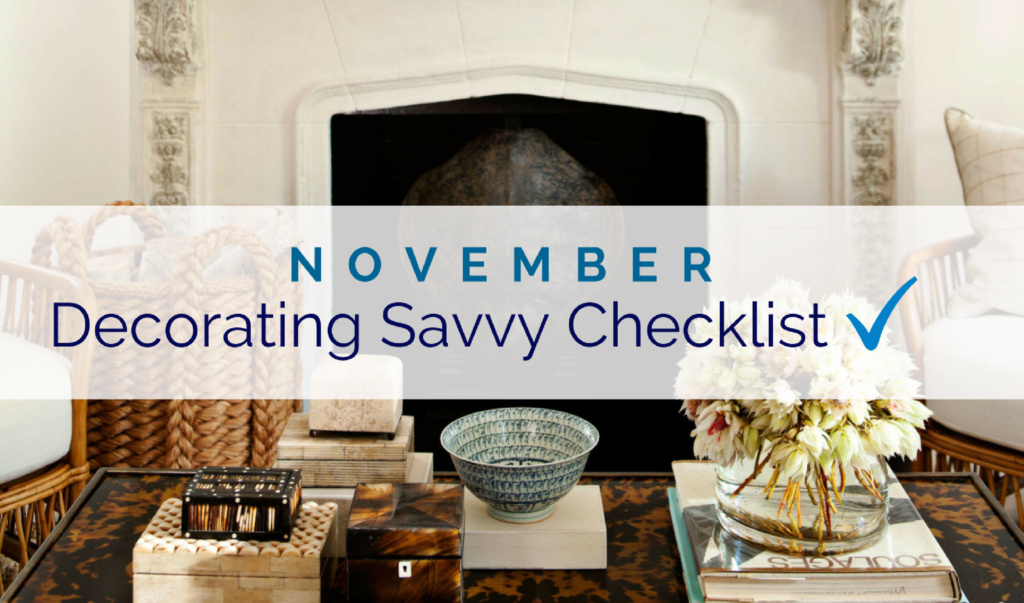 Wow, holiday season is about to take off! This isn't the time to start a major design project right now, but to help you on your "beautiful home quest," select even one of the actions you can take THIS month to make immediate improvements to your nest and life!
Flip all sofa cushions to instantly make the upholstery look fresher and newer…just in time for guests! Give the cushions a pounding to fluff up if needed.
Plan a New Year's Eve get together if that's been on your mind. Get the invites out this month since calendars fill quickly this time of year!
Pick out the "room that makes you crazy," and eliminate all teeny-tiny tables or plant stands in the corners. Just opening up your corners will make rooms breathe and feel larger.
Restyle 1 coffee table. Whether company's coming or just for you: Facelift with a large tray or decorative lidded box to contain items. Google coffee table decorating ideas to get your creative mo-jo going.
Facelift the coffee table by repainting it! (Yes, you can spray paint the metal finish of glass top coffee tables too!)
As ever even small but savvy changes bring great rewards. Pick just 1 of the ideas above to get moving…and watch wonderful things happen at your place!