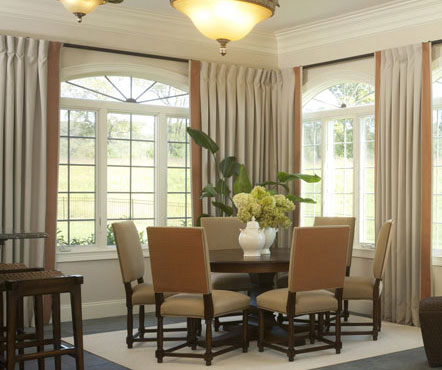 Big beautiful homes are – well – big and beautiful. The cost to do the window treatments for those big homes will be beautifully big as well. Or not so beautiful, depending on how you look at it.  Here's a quick primer on window treatments for large luxury homes so you can be a wise design consumer when you're house hunting or just doing some quick calculations for a project you want to tackle.
Window treatments for large, tall, wide windows will need to be custom. Period.
Custom window treatment costs will boggle your mind. They are a heavy labor game and will cost more than you think they could, would or should. Sorry. I bet what you do costs more than people want it to, also. Talk to a window workroom and they'll fill your ear.
On a single 43" wide window, let's say, in a room with 9' ceilings, using the lowest cost fabric, doing the simplest panels lined and interlined for proper proportion and hung on a metal rod, figure an easy $2,400+ with installation. Cut that in half if you're doing a top treatment only. Add more if you're paying a designer to design it all for you. Add more if it's a wider window or a 2 story bank of windows. And that's just for 1 window.  If your house has 35 windows…you do the math. Sticking to lower cost fabrics will help.
You will not like the lowest cost fabrics. You're a luxury home buyer. Fabrics run on average from about $33/yard to $350/yard.
Up your originally expected window budget by 20-35% and pop an aspirin. Window treatments will take a big bite out of your total design budget.
I met with a really neat client once who had just upsized to a truly stunning, tasteful, elegant large home. The family room alone had 5 very tall windows that needed to be covered. This gent went from being very gracious and lovely to looking at me like I was the devil incarnate when I told him that he should expect at minimum his window treatments in that room to top $10,000+ if he wanted drapery panels. Not bad if your budget is $40K-$50K. His was $15K.
Be a wise design consumer and know what you're facing so you can plan accordingly. It's the unknown that dashes the design spirit; bounding headlong into something you think will cost far less than it does is a bracing splash of cold water. Be strategic, hire the right team of advisors or pros and you will be just fine. And if you feel like you need a little air…open the window. Just try not to get the drapes dirty.
About Donna Hoffman, The Interior Design Advocate™

Donna is a former top QVC Show Host and now one of the country's foremost consumer advocates in interior design in addition to being an award winning designer herself. "I help people avoid wasting big dollars and unnecessary frustration when  furnishing and decorating their home by offering clear strategies for finding the right products, professionals,  contractors and services." The results are that people get what they want, spend smart, eliminate the stress and get that beautiful home of their dreams. Known as The Interior Design Advocate™, Donna is here as your advocate, making sure you get wise in design so you can get what you want.