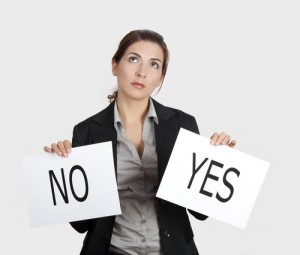 If you're indecisive and considering hiring a designer, read on. The dollars I'm about to save will be yours.
Sure, design is one of Life's great pleasures. Done wisely, the well-designed home is a dreamboat of an experience both "before, during and after." But Design requires more than a budget and a good designer. It requires decision-making ability. Proceed without it and any wise designer will tell you that the costs to your project will be great.
The Survey:  We surveyed talented interior designers across the country to learn their Top 5 favorite AND most dreaded client traits. The results were fascinating, particularly since the designers weren't provided a list of stock choices, yet their independent answers began to repeat. Want to know a leader on the dreaded trait list? Indecisiveness. Why? Because it wastes client money and time, slows a project to grinding halt and makes for unhappy clients.
The Example:  This brings to mind a fabulously likeable client I'm designing for now – a true peach of a person. Decision making is her downfall. We spent the better part of 2 hours yesterday at her home re-pondering 3 very similar cream colored sofa fabrics. They all worked well; one was ideal. All embodied completely the inspiration images she had shared. To help her reach a decision, I said truly everything that can be said about these very similar fabrics. (If a former QVC show host runs out of things to say, you KNOW there's nothing more to be said!)   This wonderful person is so afraid of making the wrong decision that she can make none.  Throw in the 2 paint colors we needed to decide between for the wall, and well – we both needed aspirin.
By contrast, in the same month I shopped with another lovely client for her sofa and room accent fabrics. Mission accomplished in 1 hour & 50 minutes and her sofa will deliver soon. For my vacillating decision maker, we are well into the 11 hour mark for design and travel fees for her sofas alone. As a wise design advocate, it kills me, because this means she's in over $1,500 with me on just her sofas and pillows – which still is not decided as of this writing. Think of the furniture that could be paid for with some of that. And there's an entire room to do. My poor suffering client shared in her first meeting that she has lived with and hated her mostly empty family room for 10+ years.  I understood why shortly after we began working together and grew concerned that she'd have it for another 10 years.
So be a wise design consumer. Design is a pricey sport. If you are indecisive, do not hire a designer. Sure, you'll be faced with good looking decisions working with a pro, but you'll still have to decide something. The cost of all of your indecision will be great – in dollars, time and emotional capital.
About Donna Hoffman, The Interior Design Advocate™

Donna is a former top QVC Show Host and now one of the country's foremost consumer advocates in interior design in addition to being an award winning designer herself. "I help people avoid wasting big dollars and unnecessary frustration when  furnishing and decorating their home by offering clear strategies for finding the right products, professionals,  contractors and services." The results are that people get what they want, spend smart, eliminate the stress and get that beautiful home of their dreams. Known as The Interior Design Advocate™, Donna is here as your advocate, making sure you get wise in design so you can get what you want.