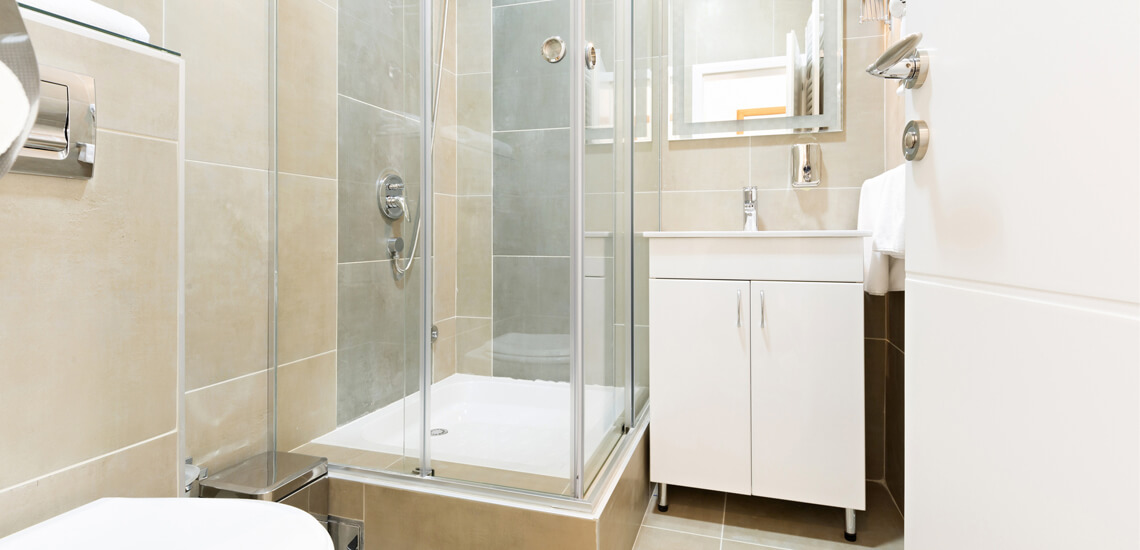 An overstuffed, small bathroom can be a daily buzzkill for any design lover. Does that mean you need a major renovation to make it right? No way! Check out our top ten 10 small bathroom design ideas to help you gain both physical and visual space in your bathroom:
Choose the Right Sink – If you're tackling a small bathroom remodel and storage isn't an issue, go for a stylish pedestal sink. If you need all the storage space you can get, go with a traditional vanity.
Hide Your Towels – One of our favorite small bathroom design ideas is to preserve precious wall space by installing a towel hook on the inside of your door and a hand towel holder on the side of your vanity. Use the empty space to hang a big piece of art instead!
Install Tile Vertically – If possible, install your accent tile running vertically. It draws the eye upward and makes your ceiling seem higher and the space feel bigger overall.
Add Organization to Your Linen Closet – Install screw-on shelves or hang storage baskets on the inside of your linen closet door to hold items not used daily. If you lack a linen closet, add an armoire or chest to your hallway to store towels and extra bathroom essentials.
Install A Pocket or Barn Door – Another one of our favorite small bathroom design ideas is to preserve much needed floor space by replacing a traditional swing door with a pocket or barn door.
Install A Mirror – Go big and bold with your vanity mirror to visually double your space. Don't forget that sconce lighting can be installed directly on top of your mirror to save space!
Hang Shelves – Increase storage space by hanging floating shelves. Add decorative baskets to keep unsightly items at bay.
Minimize Accessories – We'll say it again a little louder – FUNCTION BEFORE BEAUTY! Keep counters clear by minimizing decorative accessories. An uncluttered space looks bigger than a cluttered one.
Go Big with Art – Make an impact with a piece of artwork. Avoid oils and watercolors in high-humidity environments.
Maximize Lighting – Add sconces or pendant light fixtures in addition to your overhead lighting. Also, select window treatments that can be opened to increase natural light.
Smart strategies bring great rewards! Utilize even just one of the tips to gain physical and visual space in your bathroom. Contact us if you need help with your small bathroom design!