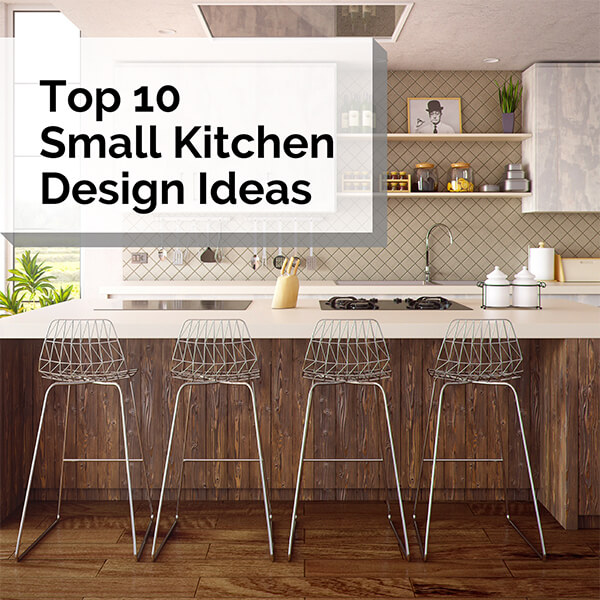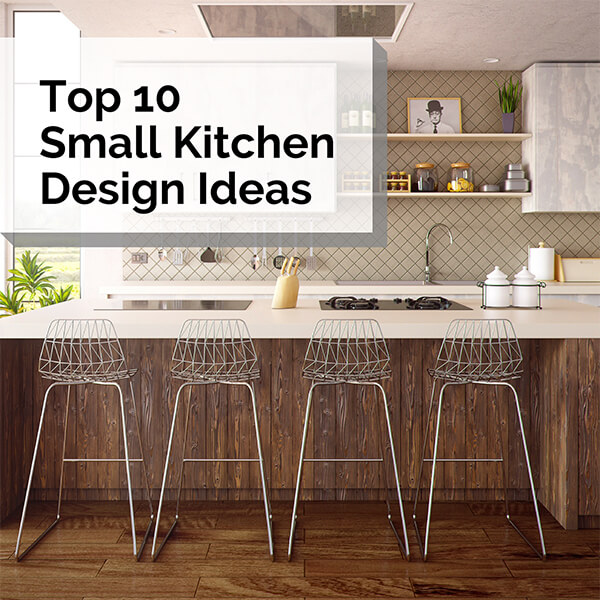 Small kitchen design can truly be confounding. Blending function with beauty may be important in any kitchen, but it is absolutely crucial in a small kitchen that is tight on square footage. Never fear! Limited space does not mean limited possibilities. From unique storage solutions to design flourishes that will trick the eye, these top 10 small kitchen design ideas will help you make the most of the space you have:
Experiment with Open Cabinetry – To keep a small kitchen from feeling claustrophobic, replace your upper cabinets with open shelving to visually expand the space. As a plus, storing your items out in the open will motivate you to downsize and get rid of things you don't really need.
Go for Glass – Glass or mirrored tile reflects light and can make a space feel lighter, brighter, and bigger overall. You can also select cabinetry with glass or mirror inserts for a striking design flourish.
Hang a Pot Rack – Go vertical! Hang a pot rack from your ceiling to give your kitchen a punch of personality and free up storage space in your cabinetry for unsightly items like mixing bowls and old Tupperware.
Turn Your Stove into Extra Counter Space – Purchase a stove cover to turn your cooktop into extra counter space when it's not in use. Research what is possible with your type of cooktop.
Add Bench Seating – Free up floor space by replacing the chairs in your breakfast nook with a built-in or freestanding bench. Extra points if it's a storage bench!
Use a Trolley – Purchase a rolling trolley to use as an island when extra prep space is needed. When done, you can park the trolley against a wall or use it as a bar cart in your dining or living room.
Display Rather than Store – Rather than finding a place to store decorative serving dishes, prop them up on plate stands and use them to decorate your countertop or the space above your cabinetry.
Embrace the White Kitchen Trend – Nothing makes a room look bigger and brighter than white! When we were recently tasked with designing a small apartment kitchen, our first move was to start with a white palette. From white counters, to white tiles, to white cabinetry … find your own way to embrace this trend.
Maximize Lighting – How many times do we have to say this? Bright, well-lit spaces look bigger. Add recessed lighting to the room or give your space an additional boost with a decorative fixture.
Edit, Edit, Edit! – Above all, one of the best philosophies to fit yourself into a small kitchen is to edit. Be brutal! Every item that goes into your kitchen should serve a purpose. If you haven't used something in two years, toss it! Get rid of doubles and triples; how many colanders does a woman need?
We know you can do it! Remember, good things come in small packages. Follow these tips, and who knows? You might even find some square footage you didn't know was there. if you need help with your small kitchen design!