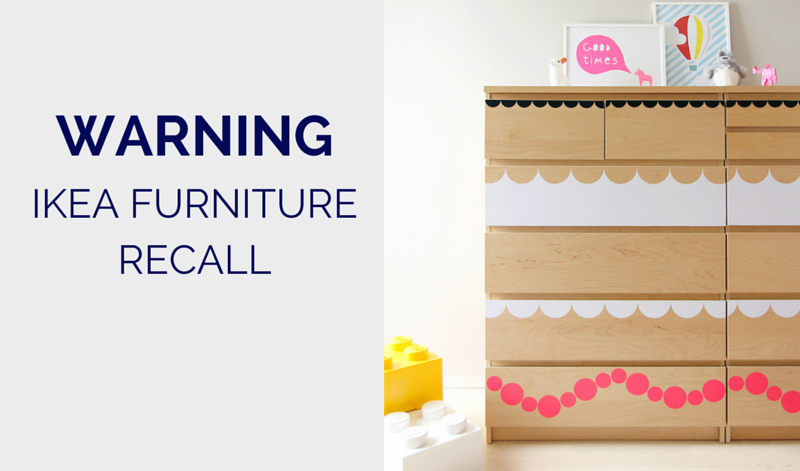 An important guidepost here at TIDA is not simply the predictable adage "Buyer Beware." Instead we favor empowering Design Lovers to be Wise Design Lovers, so our guidance on any design spending is always: "Buyer Be Aware."
In this blog post, we hope to protect you, your family and your friends by spreading the word that about a widespread furniture product malfunction and recall. As reported in The New York Times, furniture giant Ikea, who cornered the market in low-cost-low-quality furniture, is recalling a slew of their products. 29 MILLION dressers to be exact. The Ikea dressers need to be anchored to the wall to prevent tipping when the drawers are open. Accidents involving the Ikea dressers have resulted in 70 reported cases of child injury, and in additional 7 tragic cases, children have been crushed to death. In many cases, toddlers opened the drawers in an effort to climb them like stairs. As recently as February of this year, a mother in Minnesota went into her child's room to check him at nap time and found him crushed under the weight of a 6 drawer dresser from Ikea's popular line, the Malm.
American furniture manufacturers who produce high quality and cost furniture, by in large adhere to voluntary safety standards which ensure that their products won't tip over when drawers are extended and 50 pounds of weight are applied to it. The Ikea recall applies to all Ikea furniture that fail this test… 29 million dressers.
Last summer, Ikea did begin to offer free wall anchor kits to owners of its furniture, however many consumers never knew they needed this sort of precaution. The Times article reporting on the recall also noted that "a child dies on average" every two weeks in accidents involving furniture as well as large TV's. In addition, each year, roughly 38,000 people make ER trips for injuries related to toppled furniture. Ikea is doing the right thing in trying to make right on this hazardous, and sometimes fatal design flaw.
However, our hearts go out to the parents and families who have gone through this heart breaking tragedy, like that poor mother in Minnesota. We hope you'll help spread the word to family and friends who own or plan to purchase Ikea furniture. Correct assembly and wall anchoring is a must. Or perhaps, better to save a little longer and buy a studier, more well engineered product. Buyer Be Aware. Never is this wisdom more necessary or true, then in the me-too, look-alike world of furniture. Quality furniture costs more than you wish it, or think it should. Buyer, be aware. End Note: Please pass this post on to anyone who you know and love who owns or is thinking of purchasing Ikea furniture. The full article in the New York Times can be seen by visiting their website. Article publish date: June 29, 2016. Article Title: Ikea to Recall Furniture Blamed in Tot's Deaths, by Mike McPhate. Image source: pinjacolada