Hey, there girlfriend, I'm Donna Hoffman and they call me the Interior Design Advocate because I advocate on behalf of design lovers everywhere. To help you wipe out the ugly room, get rid of the disappointing result, and get rid of that room where the ideas in your head are just falling flat.
Okay, so here's what we're going to do in this video, I'm going to be talking to you about the underestimated, locked power, unleashed power of interior design furniture space plans that are drawn, on a computer, by hand, it doesn't matter. But these babies are power tools and if you are not getting the design results that you want in your home, you have got to start getting serious about using tools that are in the available toolkit. So what's the whole deal with interior design and furniture space plans? Furniture space plans do a lot of things, but a couple of the really important things they do is, they show you what works and why what doesn't work, why it gives you your final furniture count not only by the number of pieces but also the type of pieces. What's the maximum size armchair that fits in your living room? Is it 32" wide, 36" wide? How deep can it be? 
There is so much discovery that happens just with your furniture space plan so that you can decide what ideas might work. In fact, I want to show you an example of a space plan exploration that helped a family's decision.
Living Room Questions
Can we do bookcases that we want in this beautiful new living room?

Can we add our existing baby grand piano?

Can we reuse all of our existing furniture?

Living Room Plan 1
So let's do this, okay, so let me orient you on this plan. At the top of the plan, you see built-ins listed, those are built-in bookcases and notice that they're drawn outside the room. "Hint" that's because they don't fit inside the room, and this is how I'm able to show that on this plan, and at the bottom of the plan you'll see where there's that 90-inch long arrow, that's how you enter this living room from the foyer. Okay, notice that we have a big baby grand piano in the upper left-hand corner of this plan and all the other furniture and rugs, with the exception of one piece of furniture coated red. That's a great trick that I recommend you use when you are reusing furniture in a plan, color it a different color so you can immediately look at it and say "ah that's right, I don't have to buy that," that doesn't go into the line item budget as a spend that's a nice zero out. But anyway in this plan we could get the baby grand in, we could reuse a lot of existing furniture but uh-uh cannot use built-in bookcases. 
Well, we wanted to get everything in this room so let's look at this plan. 

Living Room Plan 2
Now notice we can get into built-in bookcases, we could keep the baby grand piano in the room but we had to move its location. Now we had to buy new furniture because the existing sofa and chairs were just too big. So this was a viable option, but the family said: "no we don't really want to buy that much new furniture and we really want to be able to see that baby grand piano when we're standing in the foyer looking into the living room."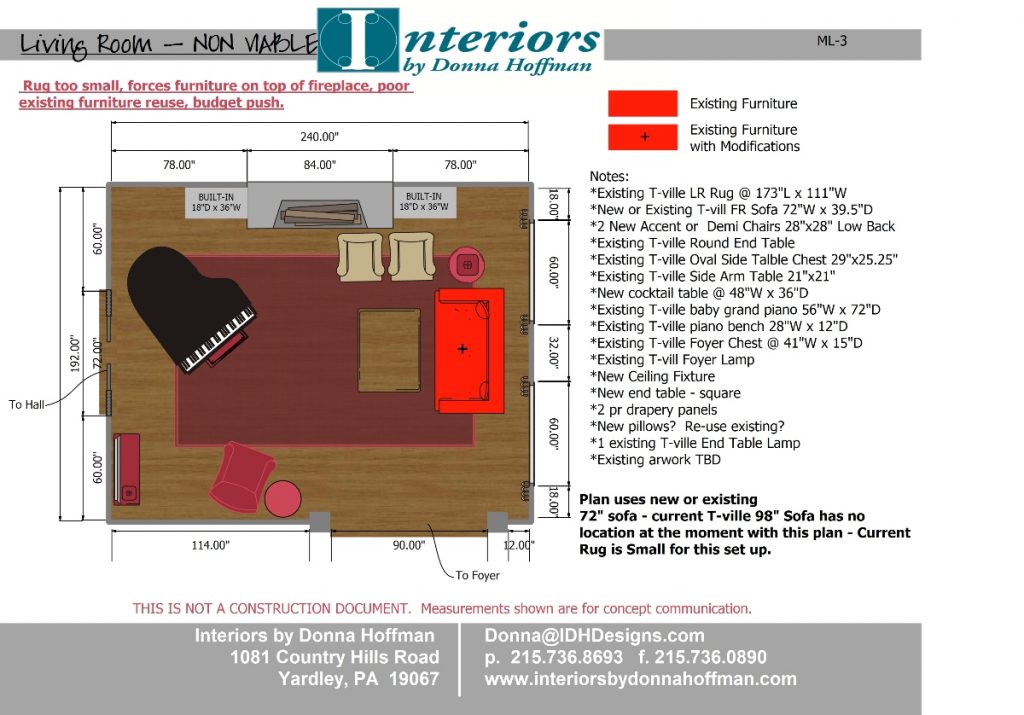 Living Room Plan 3
Okay, let's try another exploration, so now take a look at something else we showed. This is built-in bookcases on either side of the fireplace, that really pushed that baby grand pretty far into the room and in order to keep adequate pass-through into the room around the furniture, we had to really put the soft seating (meaning sofa and chairs) right alongside the right-hand side of
the room. We had to block the fireplace, this is a non-viable plan, it's a terrible plan, and that's why at the top of the page it's even marked non-viable plan. But sometimes you need to show, in my
case a client, and in your case working on yourself with your need to show yourself or your significant other, hey this is why this doesn't work. You want to have this amount of seating, in this room, and all these other elements, it just doesn't work.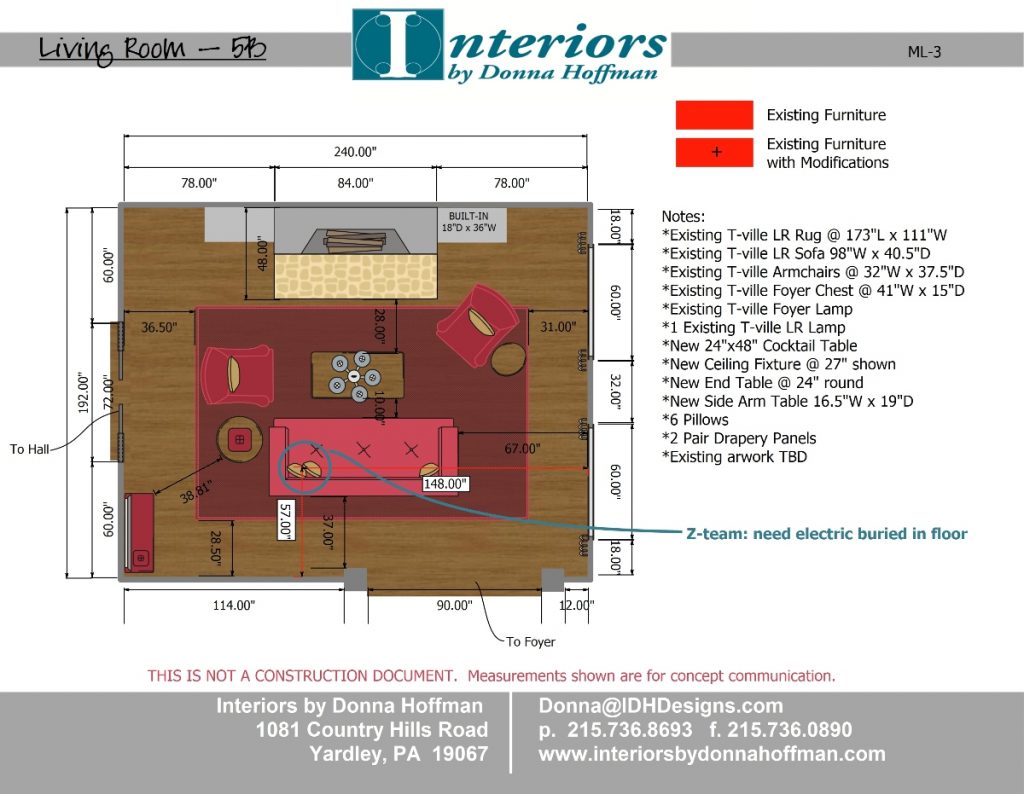 Living Room Approved Plan
So now take a look at what we ended up doing. where we removed the piano from the room. The built-ins actually stayed in their places. We were able to use a lot of the existing furniture, we just used less of it and we added some new tables, a new cocktail table, and some new sidearm tables.
So there you've got it, measured space plans are power tools and if you'd like to see what the finished room looks like, here you go. But the beauty of that measured space plan is it:
Tells you what fits 

What works, what doesn't work 

What you need

Your item count 

As well as your sizes
So there you have it, girlfriend, if you want to get rid of overwhelming confusion stop throwing your power away start doing those measured space plans!